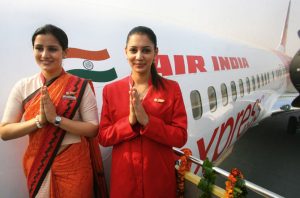 India's national airline In a quest to set a new world record have arranged with the first round-the-world flight staffed entirely by women.Air India said its Boeing 777 traveled from Delhi to San Francisco and back again with an all-female crew last week, the first time such a flight has operated a flight around the world with an all-women crew ahead of International Women's Day.
The flight departed on 27 February for San Francisco and returned at the Indira Gandhi International airport on Friday after flying across the globe.An Air India public relation officer said the airline has already applied for a Guinness World Record and Limca Book of Records for this great Achievement. Last year the Air India had flown a non-stop flight for 17 hours to set a record for the longest all-female crew trip.In recent years Air India has taken several initiatives to improve its record on gender equality.
This flight isn't the first time AI has successfully celebrated International Women's Day. Each year, the company operates select flights on its international and domestic routes with all-female crews. The airline has around 3,765 female employees, including pilots, engineers, technicians, doctors, security personnel and cabin crew.