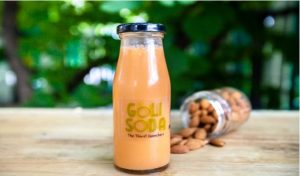 Hyderabad-based Startup 'GoliSoda', on Wednesday announced the launch of 10 ethnic natural beverages under the brand name 'GoliSoda'.



The exclusive proprietary, preservative free, ethnic thirst quenchers with seasonal local produce will be available in major drive-ins and in 90 restaurants and hotels in Hyderabad including online delivery platform, Swiggy. The company also announced to setup of 10 new retail outlets that will start operations very soon.
'GoliSoda' began steering the product to present the most looked for after local refreshments – coconut water, sugarcane juice, 'badam' (almond) drain, rose drain, organic product drain, Arabian style thick grape juice, nannari sherbet, spiced buttermilk, watermelon juice and paanakam.
The 300 ml coconut water bottle is valued at Rs 60 though the enhanced milk range is estimated at Rs 65 for each unit.
"In the course of the last one year, we have been chipping away at our innovative work and in addition guiding the regular refreshment drinks online with Swiggy, in few of drive-ins and in a few restaurants previously we conveyed it to the market," said Ravi Teja Jallepalli, Founder, GoliSoda.
Presently, the organization is offering 2,000 bottles consistently. "This mid year, we intend to clock offers of 12,000 bottles every day, focusing on all age bunches that will take a stab at something new and elegant," said Jallepalli, a Chartered Accountant and Economics degree holder from London School of Economics.
After the solidification of the market in Hyderabad, the organization intends to dispatch its products in other regions like Bengaluru followed by Chennai.
As per Jallepalli, the organization gaineed Rs.1 crore income first year during the pilot project and product testing itself. "We are taking a gander at a 15x development this year. We anticipate a major potential in the B2B portion and we are working towards merging our infiltration in this segment," he said.