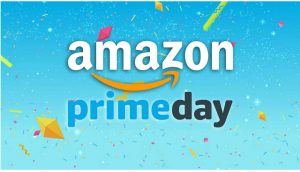 In lead up to Prime Day, Amazon ramps up room for 2-hour delivery service.



As part of Amazon Prime Day offers starting July 16 in India, 18 start-ups from Amazon Launchpad are showcasing their products and services on the e-tailer. 25 new products from the start-ups will be going on sale exclusively on Amazon for Prime customers. Amazon's annual shopping event is being held in 17 countries including India and covers more than 100 million Prime members.
1). AutoWiz is launching AutoWiz HotSpot, a connected car solution which can turn any car into a 4G speed Wi-Fi hotspot. AutoWiz is an Indian Connected Car Solution that uses advanced GPS, GPRS and OBD technology to track vehicles. Real Time car location tracking on your mobile using AutoWiz App. See detailed path of moving car (updated every 3 seconds) and current car speed. View detailed trip report for current and historical trips. Get notified when vehicle reaches or leaves a place. Allow friends and contacts to track car temporarily on need basis.
2). Leaf Wearables is introducing multiple options of headphones and earphones — LCARE, TAGG and 1MORE. Leaf Wearables, a startup launched by five tech students from New Delhi, has designed smart jewelry that aims to keep women in India safe.
3). RoadGods has come up with 2 new backpacks — 'The Ghost of the Blue moon', anti-theft & water resistant with enhanced quality and features compared to its earlier version and 'The Xator Backpack'. Shop Online for Gods adventure, moto & travel gear. Buy Backpacks, Outdoor travel Gears & performance clothing at best prices with free delivery.
4). Easyneck's pillow to help reduce neck strain or shoulder pain. EasyNeck cervical pillow is first of its kind designed and developed by professionals, to provide with the curative benefits of sleepcare, best pillow for neck pain.
5). Spruce Shave Club is offering a Natural Beard Growth Oil with pure essential oils and a Premium Beard wash . Spruce Shave Club brings you the finest shaving & grooming essentials designed specially for men. Our products deliver the finest grooming experience.
6). Solidus Lifesciences is offering an 'intimate wash for men', An intimate wash for men launched by Solidus Lifesciences to improve intimate hygiene with its new anti-bacterial range.
7).Anti-chafing sticks specially designed for runners and riders by Solidus Lifesciences.
8). Fego has come up with Float (Himalayan Range) an air suspension seat add-on that comes with extra grip & advanced strap which helps in strong mountain riding. Fego Float acts like an air suspension and can reduce upto 46% harsh vibrations that come from Bad roads.
9). Mojo Bar will be offering Orange Dark Chocolate as Snack Bar. Mojo bars are delicious and balanced snacks loaded with the ideal combination of cereals, nuts and fruits – each in their natural form. They contain nothing artificial and are perfect to fill you up when you're on the move. These bars give you your daily dose of protein, fiber and good fats in just the right proportion.
10). Happy Ratio will be offering meal replacement nutritional shake. Happy Ratio has No Preservatives and No Added Sugar while being Gluten-free, Soy-free, Nut-free, GMO-free, Cholesterol free and Trans fat-free. It's one of the safest health foods you can have in your day.



11). Soap Opera has introduced PureSense Relaxing Macadamia Exfoliating Body Cleansing Gel. Soap opera offers 100% free handmade herbal products like triple milled soaps, nontoxin soaps.
12). Looks21 Lifestyle has launched Hair Colour Shampoo & Hair Densify Solution.
13). Mansaa has invented SmartShine, a Wi-fi enabled smart LED bulb that is compatible with Amazon Alexa. 16 plus million colors for mood lighting with Mansaa SmartShine Bluetooth wireless and LED technology you can now personalize your lighting with a color palette of over 16 million colors
14). PicaVue has designed natural looking digital photo frames which have full HD IPS Display with HDMI. Photo, Audio & Video Playback: Mix photos (JPEG 8MB size recommended) and audio in the same Slideshow.
15). Smartivity Labs is introducing Do-it-yourself science, art and craft kits for children designed to enhance creative, practical and analytical intelligence. Smartivity Labs is disrupting the legacy toys and games industry by designing and developing physical, Augmented Reality enabled and internet-connected.
16). 1MORE have two balanced armatures and a separate dynamic driver. Together they deliver an extremely accurate listening experience with unsurpassed dynamic power and clarity from deep bass to sizzling highs.It is compatible with iphone, iPad and Android, allowing you to conveniently control volume, select songs, and take calls. Superior MEMS microphone has independently set ground wires to eliminate cross-talk and background static.
17). Coffee & beverages start-up on Amazon Launchpad, TGL Co. has specially created Imperial Treasure Coffee Gift Box.