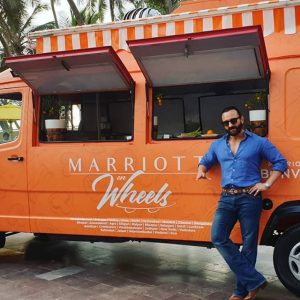 Marriott International Inc. recently made a uprising announcement to launch Marriott on Wheels – its first-ever mobile and portable food truck in India. Starting the voyage from Mumbai, the Marriott food truck will be seen travelling across six major foodie destinations in India, serving its patrons signature dishes and local favorites from Marriott properties. The food truck had been inaugurated in Mumbai by Mr. Craig Smith, President and Managing Director, Asia Pacific, Marriott International and Mr. Neeraj Govil, Area Vice President, South Asia, Marriott International along with Bollywood Actor Saif Ali Khan.
Travelling through the cities of Ahmedabad, Amritsar, Lucknow, Pune, Madurai and Kochi, this food truck will be covering a distance of 6761 km over a period of 40 days. Through this initiative, Marriott International Inc. main goal is to manifest on the F&B strength of its Select Serve Brands – Courtyard by Marriott, Fairfield by Marriott, Four Points by Sheraton and Aloft Hotels.
Marriot on Wheels are spending at least two days in every city, Marriott on Wheels will be easily located at some of the most famous hubs, such as, Food Truck Park in Ahmedabad, Sahara Market Plaza in Lucknow and Info Park in Kochi. Upon its arrival in the city, an Executive chef from a Marriott property will be present on-board, serving a limited edition menu, specially curated for the food truck. Some of the dishes served on-board would include Mutton tikka quesadillas which will be available in Amritsar, Karaikudi chicken wings in Madurai and Kosha mangsho kathi roll in Pune to name a few.
"Munching on fresh, interesting and reasonably charged street food is a very contemporary thing outside India. Keeping our tradition alive of bringing new concepts in the food and hospitality, we are pleased to offer this relatively new concept of Food Truck in PBC which is already so popular among the youth. We are happy that our patrons for whom sitting, meeting and enjoying at PBC is almost a ritual, are already liking and appreciating the concept very much ", said Executive Chef Mayur Tiwari, JW Marriott Pune.
The recently launched Food Truck is operational from 5 pm – 9 pm on Fridays, Saturdays, and Sunday and features a New York style street food menu with Hot dogs, Sandwiches, Burgers, and Fries. In the months to come, the menu will keep changing and patrons will get to enjoy a variety of street food from all over the world. Indoor as well as outdoor seating facilities are available.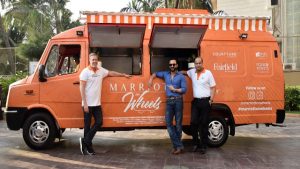 Neeraj Govil, Area Vice President, South Asia, Marriott International Inc. at the launch of Marriott on Wheels, said, "We are proud to launch Marriott's first ever mobile food truck in the country. Over the years, Marriott International Inc. has amplified its dominance in the F&B space with the help of chefs who have tremendous experience and skill. With culinary experiences driving the focus for Marriott this year, the launch of Marriott on Wheels is yet another initiative that showcases our strength and leadership in the F&B industry."
As part of Marriott International's commitment of reducing environmental impacts, Eco-friendly items such as containers made of bagasse and glass water bottles will be used on-board Marriott on Wheels. This will be implemented not just in Mumbai but also across all the other six cities where the food truck will be present. Sustainability increasingly plays into requested experiences, as more guests are looking to create a positive impact in local communities and Marriott International will remain committed to maintain a sustainable environment through all the initiatives.



Schedule for Marriott on Wheels
Date: 07 – 08 April 2019
City: Ahmedabad
Location: Ahmedabad Food Truck Park |Mondal Heights
Date: 13 – 14 April 2019
City: Amritsar
Location: Ranjit Avenue C Block | Kabir Parikh Market
Date: 18 – 19 April 2019
City: Lucknow
Location: Metro Apartment| Sahara Plaza Market
Date: 30 April – 01 May 2019
City: Madurai
Location: HCL complex | Kalavasal
Date: 05 – 06 May 2019
City: Kochi
Location: Lulu Mall | Infopark
Date: 14 – 15 May 2019
City: Pune
Location: EON | Mariplex