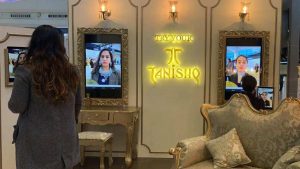 StyleDotMe, an unique New Delhi based startup recently declared that Tanishq, India's leading jewellery brand, has licensed mirrAR, StyleDotMe's augmented reality (AR) platform, for creating a unique experience center for its customers at the New Delhi and Bengaluru airports.
It was mega creation of first of it's kind retail experience, Jewelry brand Tanishq and fashion-tech startup StyleDotMe, launched a virtual jewelry try-on experience zone at Delhi & Bangalore Airports. Tanishq onboard has more than 200+ designs in its kitty, with this 'Virtual Try and Buy' experience, through the augmented reality based platform, mirrAR. After a massive response of its pilot project of mirrAR at Bridal Asia, the brand now has started locating this augmented reality product at Delhi and Bengaluru airports opening this innovation to more than 3 Lakhs people daily. The experience zone in Delhi is at Departure of T3 Domestic airport, after the security check. At Bengaluru it is at Domestic Airport, Departure.



At the airports, the mirrAR experience zones gives fashion lovers and shoppers a luxury creation of a dressing room where they can easily search and try hundreds of jewellery from Tanishq, take pictures and immediately share on social media for an engaging consumer experience. Users can see themselves in different jewelry products on a larger screen for an intuitive experience without checking through the multiple physical trials and trying out a wide variety of designs.
Sharing her thoughts on the launch of Augmented Reality experience, Deepika Tewari, Associate Vice President, Marketing, Jewellery Division at Titan Company Limited said, "Tanishq has always aimed at providing the best for our customers and this fascinating initiative of providing a magical experience using Augmented Reality technology, is one such approach to achieving that objective."
"Tanishq has taken a step towards creating a fulfilling experience for their customers. Technology is helping the retail world do much more at retails stores, and with mirrAR, this has become reality", she added.
The founder and CEO of StyleDotMe, Meghna Saraogi said, "At StyleDotMe, we aim to revolutionise the jewellery shopping experience for every customer. With mirrAR, our world class augmented reality platform and this unique collaboration with Tanishq, we're taking the leap into the future of jewellery retail where people will be able to try-on and buy jewellery without the need of physical inventory in the store".
StyleDotMe is a fashion tech startup that lets users virtually try-on jewellery in real time without actually wearing it, through their augmented reality based platform – mirrAR. The experience zone focuses on filling this important gap in the jewellery shopping market and provides shoppers with an immersive but easy to use experience which will be revolutionary for the retail industry.
Tanishq's main target audience is young Indian woman between the age of 35-55 and she tells us that the brand is always looking for new ways to engage with its customers.
Today in this new age world latest innovative technologies like Artificial Intelligence and machine learning are changing the way people shop.
StyleDotme is soon going to launch a consumer version of the application in where consumers can virtually try jewellery using their mobile phones by end of 2019.