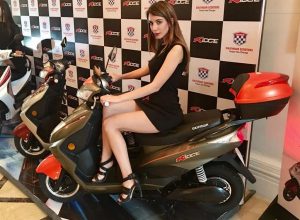 Gurugram based Electric Two-wheeler Manufacturer Okinawa Auto technology company had recently made an official announcement to invest ₹200 crore to build a second manufacturing plant in Rajasthan, India.
It is reported to be one of the first electric two-wheeler manufacturers to receive ARAI certification under FAME II, Okinawa identifying all options to push its advantage with an INR 200 Cr investment to set up a second manufacturing plant in Rajasthan.
According to an Economic Times report, Okinawa has recently purchased land near Bhiwadi for the new plant. This plant is said to have a total production capacity of 1 Million units. According to the company, the plant will also be funded through a mix of debt and internal accruals. The first phase of the plant will be commissioned close to 2020-2021.
Okinawa in the past has setup its first manufacturing facility in Rajasthan which has an annual capacity of 90K units in one shift.
Okinawa Autotech founder Jeetender Sharma recently said that the company main goal is to be dominating player at the top position in the electric two-wheelers market and is thus working to develop the latest innovative products, technology and capacity to achieve the milestone.
Okinawa was one of the first startups to receive Automotive Research Association of India's (ARAI) approval to claim FAME II incentives. It received a certificate of eligibility for two of its electric two-wheelers Okinawa i-Praise and Okinawa Ridge+. The models will be able to claim FAME II subsidy between INR 17,000 and INR 26,000 depending on the KWH utilized.
According to founder Mr Sharma, both vehicles have 80% localisation and are thus in compliance with FAME II specifications.



Okinawa was founded in 2015 by Jeetender Sharma and Rupali Sharma. It produces electric scooters for the Indian market with one of the best features such as zero noise pollution and zero-emission and a no-accident approach based on carefully evaluated safety parameters.
In 2017, the startup launched its electric product 'RIDGE'- with zero emission and clock speeds of 55+ km/hr. During the mega product launch, the company revealed its plans to invest $40 Mn in the next three years.
The Indian government is also aiming to achieve at least 30% electric mobility by 2030. Electric two-wheelers account for a major portion of Electric Vehicles sales in India, so there's a lot of buzz round for the corner for electric bikes.
The Indian electric vehicle industry recorded sales of 7.59 Lakh units in India in Financial Year 2019 which also involves the sale of 1.2 Lakh two-wheelers, 6.3 Lakh three-wheelers and 3,600 passenger vehicles.
However, the entire electric two-wheeler industry had expressed their issues and problems after the central government released the second phase of FAME scheme as incentives for two-wheelers was reduced to INR 10,000 per kWh from INR 22,000 under FAME I.
Okinawa's new manufacturing facility at Alwar in Rajasthan is planned to set up with 5 lakh units per annum capacity and will be ready for production by the end of this fiscal to boost the existing volume of 90,000 units a year.
Apart from ramping up the production, Okinawa is also expanding its penetration on a pan Indian level with new dealerships. It plans to increase the total number of outlets to 500 dealers from previous existing 300 dealers.