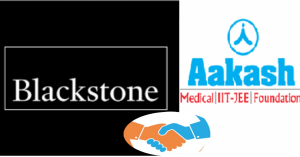 Blackstone recently announced its investment in Aakash Educational Services Limited, a digitally enabled education company helping to prepare over 250K aspiring medical and engineering students across India.
Aakash is one of India's largest test-preparation businesses, assisting class 8-12 students in medical, engineering and other competitive exams. The company has more than 200 centers in 130 cities., employing over 2,200 teachers to help train more than 250,000 students.
Blackstone announced that private equity funds managed by Blackstone have partnered with Aakash Educational Services Limited, to build India's largest digitally enabled, omni-channel education company. Aakash Educational Services Ltd. (AESL), the national leader in test preparation services, recently has announced franchising opportunities for its popular Aakash Digital and Distance Learning Programmes.
Tech Mahindra, a leading provider of digital transformation, consulting and business re-engineering services and solutions has announced a strategic tie-up with, Aakash Educational Services Ltd. (AESL), a national leader in test preparation services, to manage digitization of its IT operations including infrastructure, data centre and applications. As part of the three-year contract, Tech Mahindra will provide support to AESL's digital transformation journey by implementing a comprehensive automation model for digital support and maintenance.



Aakash had an initial public offering before the stake sale to Blackstone and had submitted it's so-called red herring prospectus to the market regulator in July 2018. It did not move forward with the plans, though.
Aakash had recently reported revenue of some 981.1 crores for the financial year 2018, compared to revenue of some 729.6 crores in the previous financial year, data from its Initial Public Offerings filings show. In fiscal 2018, the company's profit stood at approximately 160.1 crores, growing significantly in the previous fiscal year from some 63.5 crores. Over $13 billion has been invested in India by the New York-based alternative asset manager, split almost equally between Private Equity and real estate deals.
Aakash Institute conducts its prestigious National Scholarship Exam, ANTHE 2019 at 2,411 centres across India; Record 3.27 lakh students appear. Beyond the top scoring students, there will also be attractive scholarships on the Tuition Fee, based on the marks scored by students in ANTHE. The Embassy Office Parks REIT, which is co-owned by the duo, will be followed by a second REIT that Blackstone is planning with another partner K Raheja Corp. in Mumbai.