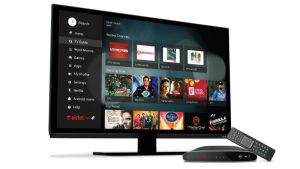 Airtel Internet TV this is our new product innovation it's a new hybrid set of books that brings best of both internet and satellite channels on one particular platform I take you through the new user interface that we have designed so this is this platform is based on Android TV from google it works on the latest Android TV release from google it has multiple application from a tells it a
little TV for this the application that you will use for accessing your satellite channels it'll movies is another application for metal which provides you access to content from a Eros Now, Sony live, daily motion and many content providers we have netflix preloaded on this platform netflix comes with one month free trial for the new users and if you already have a netflix account you can start watching it on a bigger screen now.
It also comes with some of the applications from google the most favorite being the youtube so this platform lets you enjoy YouTube now on the biggest screen of your home it has google play store where you can go and download different applications which are available on the platform itself so you basically need to connect your box to the internet and then you have the entire place to universe available to you. You can pick and choose any of the application and download it. It also has different games that can be played on TV using your so it can be played using a smart remote that you have that that's coming with this box if you can also use your smart phones to convert into a gamepad and start utilizing that as a game controller and if you have already bought an expensive gaming controller that you can connect with this device to play different games and access applications so this for example these are some of the games which i have downloaded from Google Play Store it'll also has its own gaming service that is based on subscription.
One of nice feature that we it has added to this platform is that you can now search for your channel just by click off button so Sony and it allows you to basically search for tunnels programs and content Sony and it gives you all the channels available so no need to remember your channel numbers anymore. You can basically use your voice search and start accessing it one of the
interesting part of this interface is that it gives you a more poster base you content recommendations sometimes what happens is we do not know what is coming on the TV right it gives you some of the top rated programs which are playing as of now so you basically need not haggle between the complex guide channel numbers and program names it gives you whatever is available playing as a flop it apart from the now playing recommendation.
It also has recommendations on top rated top movies. available top sports programs running as of now and over a period of time it also get recommendation personalized to the users viewing behavior which is a new for a dth operator to provide in india.
I would also want to spend some time on the remote that we have done this basically is a bluetooth remote control so you need not point over the TV and shoot it basically allows you to access your TV from anywhere because sometimes the problem is you don't get the line of sight of the box and operating is very difficult so I can practically operate it from anywhere this is this has a mite you you have to just press the voice icon and then it allows you to do voice-based searches it's a touchpad where you can basically swipe and it's very easy to use so instead of keep on clicking on the different venues.
It works with any TV beta LCD LED or plasma there is no minimum screen size requirement connectivity it has options to connect over the regular Audio Video cable the old age TVs that have three cables going into and the best way to connect is the
HDMI of course it has an inbuilt Wi-Fi so any within home network this just automatically connects you have to enter the password it connects to your home network and then you start utilizing the internet based content this is a new banner or the information banner as we call it it gives you enough touch of finger information of all other channels. It also delivers content in whatever format it is available if there is a 4k movie you can certainly watch using this platform on a 4k TV some of the other offerings from a title is a tale movies that basically gives you access to some of the latest bollywood indian content available and it's on demand so whenever you want to watch it you can watch it.
So I will probably take you to one of the premium offering so this
device is working on a 2 GB ram it has 8 GB internal storage part of it is basically utilized by the operating system and the applications which are pre-loaded but beyond that you can keep
downloading applications till you exhaust your memory on which is inbuilt and then when you exhaust that memory you can probably even put a SD card to extend it up to 128 GB. It supports up to two Tera byte of hard drive that you can connect over USB it has two USB ports for easy access as of now.
Airtel Internet TV runs on the Android TV platform and prices start at Rs 4,999 with 3-month subscription to 500+ satellite TV channels. Airtel Internet TV can also be purchased for Rs 7999, with 1-year subscription to 500+ satellite TV channels. Existing Airtel DTH users can get the service for Rs. 3,999 with a one month subscription to channels. Airtel Internet TV will be available online exclusively from Amazon starting from yesterday April 12.