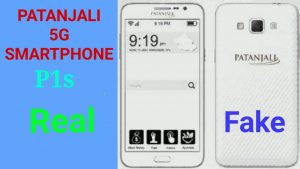 Patanjali which is owned by Baba Ramdev after making most of products had geared up to launch its Patanjali Herbal Smartphone had gone viral. Patanjali p1s mobile is good option to buy a smartphone. Patanjali phone is similar to other mobile phones. The good thing is that Patanjali p1s 5g is a next generation mobile phone.Baba Ramdev's company Patanjali is going to launch the first Made in India 5G mobile phone. The name of this mobile phone is Patanjali P1s 5G by Baba Ramdev. This phone will support the latest 5G network.
According to the rumors which went Viral on the internet, Baba Ramdev owned ayurvedic company "Patanjali" is working on 5G sim card technology. The latest Patanjali phone will only support the exclusive Patanjali 5G sim cards.
This Patanjali Herbal phone would be launched in 5 different variant are Patanjali gerua, Patanjali Pink, Patanjali Blue, Patanjali Youngistan, Patanjali Eternal, Patanjali P1s 5G will be launched in India by Baba Ramdev.
This Mobile Phone comes with the price tag of Rs 500 to Rs 5000. With this price range, Patanjali P1s 5G is the world's cheapest 5G mobile phone. This Patanjali 5g mobile will be available for purchase from all major online E-Commerce websites.
Patanjali Mobile P1s 5G Specification & Features are it has Full High Definition 5 inch display & Gorilla glass 5. The phone will run on the Android platform with the latest Operating System Nougat 7.0. The main Unique selling preposition of this phone would be it would be supporting solar charging which will save cost and electricity. It will be Totally Herbal Phone which means free from Viruses and Bacteria and will be launched with inbuilt Patanjali Apps. It will come with 1 GB RAM, 8 Mega Pixel Camera with latest 5G Technology and Sanskrit Language support.
Actually when media tried to confirm with Patanjali they had denied to comment on this news and the people behind this claim which went Viral over the Internet over the past few weeks really deserves a standing ovation for this unique imagination. Until then let us beleive that its a trap or fake news which went Viral.