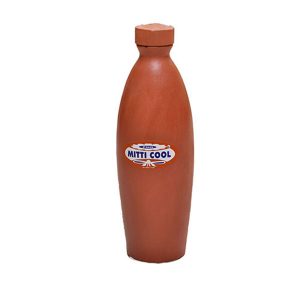 Eco-Friendly, Made-In-India clay bottles will keep you cool and it's help you to be healthy too. These 'mud' water bottles by MittiCool are eco-friendly, modern updates of the traditional water-cooling matkas and an example of Modi's Make in India.The eco-friendly water bottle is a self-cooling, terracotta clay bottle made from a special mixture of clay. It is very easy to clean and to refill faster. Clay gives a unique desi taste to the water. These MittiCool water bottles are handmade in India using 100% raw material as natural clay.
MittiCool Eco friendly bottle is been made up of natural mud clay and takes around process of eight days to make it. In this hand made process mud clay is mixed with fresh water and than given a proper shape after that it is polished, dried and baked in a kiln before its final dispatch. Our ancestors always said that preserving water in clay matka or bottle is the unique way of storing to make water cool and healthy too. Even scientists said that storing water with the elements of earth also provides healing to our body.
Desi Matkas are having a image make over thanks to clay product intiative undertaken by manufacturer MittiCool. Mansukhbhai Prajapati, a traditional clay craftsman, has developed an entire range of earthen products for daily use in the kitchen. These products include water filters, refrigerators, hot plates, cooker and other such items of daily use.
As summer had already started raising its temperatures across India being hydrated and cool is very important. Here is the solution by MittiCool which is a eco-friendly clay product manufacturer has been making hand made clay water bottle which look classy and stylish too.
In the past MittiCool had been praised by Prime Minister Narendra Modi's at Make in India initiative. Cooling products made of clay are nothing new in India. Matki or Matka (Hindi for earthen pot), have been in use since ancestors times, found in the homes of people of every class. Normally Desi Matkas are been made by special mixture of mud clay; one from the earth's surface and one from under the surface.
As Indian are becoming more health and fitness conscious they are trying to explore more unique ways to become fit and healthy. So that is the reason MittiCool is becoming more popular and advisable than opting for plastic water bottles which contain some harmful and toxic raw material to manufacture it. Plastic water bottles are very unsafe and can also crate health problems in future and on other hand MittiCool water bottle are made up of 100% clay which has more health benefits and eco friendly in nature
Get a head start on summer!