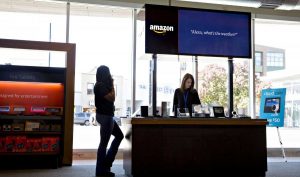 Global E-Commerce giant Amazon is now looking to strengthen its Indian business and operations by expanding its foothold to offline mediums like shopping Malls.
Amazon India announced its plans to roll out more than 100 kiosks in malls across India that will sell its devices such as the Kindle ebook reader, the Echo speaker and the Fire TV dongle by the end of the year, a report said citing sources.
This is being speculated to be a precursor to a broader entry into brick-and-mortar stores in India for Amazon. The company is reportedly looking for 70-80 sq ft kiosk space, which will run by third-party franchisees.
An Amazon spokesperson reportedly commented saying, "We do not speculate on our future road map, but we're always looking at ways to provide the best experience to our customers. The Amazon Devices Kiosk gives customers a first-hand experience of the devices. Customers can walk up to the kiosk and take an assisted live demo of Kindle, Fire TV and Echo family of devices with the help of the store staff before purchasing devices. The store staff is also available to solve customer queries, before and after purchase."
It is not the first time Amazon India has put offline kiosks at work for a wider reach to its target customers. Two years back in 2017, Amazon set up kiosks in Bengaluru and has been operating four of them — two in the Karnataka capital and one each in Mumbai and Ahmedabad — for more than a year. The fifth kiosk came in Logix Mall in Noida.
However, the offline push comes in contrast with Amazon's United States operations where, in February, the company announced that it was closing more than 80 popup stores in United States malls after years of trials with the concept.
At the same time, in India, competitors like Google and Myntra have continued to bet big on offline expansion. Google had experimented with more than a dozen popup stores in malls in India, while Myntra, the online fashion arm of Walmart-owned Flipkart, operates various stores of Spanish fashion brand Mango as well as private brand Roadster in various cities.
Several Indian players and global competitors in India are betting big on offline expansion including Google and Zivame . Google introduced more than a dozen stores in India including High Street Phoenix in Mumbai and Select Citywalk, Promenade, Mall of India in the Delhi-National Capital Region to showcase its Pixel 2 phones and to let consumers know its features.