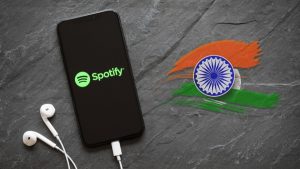 Spotify is at present providing more than four crore songs and 300 crore playlists for its subscribers in India.
Swedish music streaming platform Spotify, which just made a big bang debut in India one week back, has recorded over one million users, the company said on Tuesday.
"One week since its launch, Spotify now has more than one million Indian users, across both its Free and Premium tiers," a company spokesperson told IANS.
Throwing a stiff competition to music streaming services biggies like Gaana, Saavn, Apple Music and Amazon Music, Spotify arrived in India last week with all-new features, including for regional music.
Spotify is offering more than four crore songs and 300 crore playlists for music fans in the country.
The Spotify app — now available on mobile, desktop and tablet — is free to download and users need to spend Rs 119 a month to upgrade to Spotify Premium.
Spotify's music recommendation engine can be tuned to Hindi, Punjabi, Tamil and Telugu
For the first time on Spotify Free, smartphone users in India can play every song on demand.
The online music streaming market in India is expected to cross $273 million by March 2020, according to Deloitte.
In India, Spotify directly competes with existing online streaming services such as Reliance's JioSaavn, Amazon Prime Music, Gaana, which is owned by Times Internet, Apple Music and Google Play Music.
Cureently India has population of more than 1.3 billion and more than 400 million smartphone users, is a potentially huge market for the Swedish company. According to media reports, Tencent-backed Gaana leads the Indian streaming market with over 80 million monthly users. Spotify has 207 million monthly active users globally and 96 million subscribers.
In the United States, a Spotify subscription will cost you $9.99 every month — however, in India the monthly subscription costs a mere $1.70, which is probably 80% cheaper than its US price.
Prior to its launch, it had briefly hit a hurdle when the music label, Warner Music, filed for an injunction in the Bombay High Court earlier this week over licensing rights. On February 26, The Bombay High Court directed Spotify to deposit Rs. 6.5 crore after the infringement suit.
Earlier, in an attempt to leverage Warner/Chappell Music's (WCM) local Indian publishing rights, WMG which has some big-ticket artists like Katy Perry and Led Zeppelin in its kitty, filed for an injunction against Spotify over licensing rights in the country.
Globally, Spotify is available across 79 markets and has 207 million active users and 96 million of these users are Spotify Premium subscribers. The platform adds approximately 30,000 new tracks each day.
Spotify is available on over 500 products across 200 hardware brands globally.