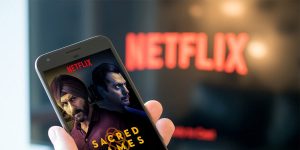 Netflix, the California-based video streaming service, a new experimental plan of Rs 250 monthly subscription for mobile devices in India. The real motive is to enhance its presence in the price-sensitive Indian market where data consumption on smartphones is rapidly increasing.
Netflix, in fact, at present is offering three monthly plans in India, ranging between Rs 500 and Rs 800. However, compared to the competitors, these monthly plans are very expensive.
Netflix's cheaper plan for mobile devices is a step in right direction. With smartphones being the device of choice for media consumption in India & with majority of lower tier smartphones unable to display Full HD at native resolution anyways; SD quality content at cheap rate makes sense.
But what needs to be seen is, whether the target population for this plan is willing to subscribe to a streaming service; when their entertainment needs are fulfilled by WhatsApp, Facebook, YouTube for free!
It is known that Amazon's Prime offers video streaming, music and faster shipping of purchases at Rs 999 a year. Meanwhile, another rival Hotstar offers its services both free as well as for Rs 365 a year.
The new plan to test a Rs 250 per month services would bring unto users access to standard definition video on smartphones and tablets, said a news report.
Netflix is said to be lining up different options in select countries where members would be able to watch its videos on their mobile devices for a lower price and subscribe in shorter increments of time.
Ask any marketing professional & most of them would say, "Price is never an issue, brands must create good value propositions".
Ask any sales professional & most of them would say, " Product pricing is the only problem"
Well, neither of them are wrong nor entirely correct. However, to succeed in any business, I believe there must valid reasons and thorough research when you play with your #pricingstrategy.
Though famous in the Indian terrain, Netflix has a premium pricing in the country and this is seen as a stumbling block to enhancing the services India subscriptions. The California-based company has been reported as saying that it had no plans for cheaper prices in India but targets to achieve the next 100 million subscribers.
It's not just pricing that will be a challenge for Netflix. Even though Netflix has the advantage of first-mover and being the largest player in the OTT media market, but as a standalone service provider it will find it difficult to compete with vertically integrated players and ecosystem of products like Amazon, Disney, AT&T, Apple, YouTube, Reliance Jio and even Facebook.
To provide a better perspective, Disney is going to launch it's own OTT media service plus it owns Hotstar. AT&T owns WarnerMedia, which in turn owns HBO, CNN and DC comics etc.