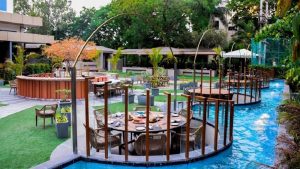 Indore Marriott Hotel had recently introduced new open-air Indian restaurant, 54 Praangan, on April 27, 2019.
An open garden restaurant with a live interactive kitchen and a green environment at Scheme No. 54, the restaurant justifies its name, as Praangan is a Sanskrit word for aangan, which means open area.



It is the second specialty restaurant of Indore Marriott Hotel, and the only restaurant in the city to provide undivided Punjabi, Awadhi and Kashmiri cuisine from its live kitchen. The menu includes a selection of authentic dishes such as Royal Awadhi Kebab Platters, curries, biryanis, and much more.
On the launch of 54 Praangan, Devesh Rawat, general manager, Indore Marriott Hotel, said, "At Indore Marriott Hotel, it is our constant endeavor to provide our guests with the best services and facilities, along with the most vibrant food and beverage programme in the city."
"We are happy to launch the second specialty restaurant in the hotel, after One Asia, which is known for its distinctive cuisine trends and service. Now our guests staying at the hotel can have a great dining experience in the open garden restaurant. We hope that 54 Praangan will completely charm our patrons and bring them the gastronomic experience they have been waiting for," he added.
Vivek Kalia, executive chef, Indore Marriott Hotel, said, "54 Praangan is a specialty Indian restaurant that offers classic aromas with a contemporary take, rooted in age-old traditions."
"The exotic delicacies from the North-West Frontier to Awadh are served under open clear skies. The handpicked signature kebabs, the authentically prepared curries, the ancient traditional breads straight from the tandoor by our master chefs are intended to give you a royal dining experience."
One of more good thing with that restaurant is that they will have different kitchens for vegetarian and non-vegetarian fare, will also have a centrally-positioned round interactive bar, which will offer signature Indian cocktails. The restaurant has five elevated, premium dining areas and a dedicated kid's area for a complete family outing.
The restaurant will only be open for dinner and easily accommodate up to 80 people. The restaurant is designed to bring another delightful and nostalgic experience to its guests.