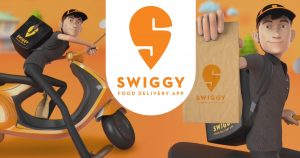 Swiggy, Local online food ordering and delivery platform recently made an official announcement and said it now delivers over 1.5 million orders every month on mechanical cycles. It has currently fleet of over 1.7 lakh delivery partners in more than 120 cities in India.
"A couple of years back we initiated concerted efforts to make deliveries more sustainable for the environment. With close to 10,000 delivery partners on cycles each day, we have found that in some cities the average travel time for a delivery partner on cycles is lesser than bikes," Srivats TS, Vice-President, Marketing, Swiggy, said in a statement.
"With the future heading towards more eco-friendly modes of transport, cycle and EV logistics will be the next game changer in food-tech and Swiggy wants to be at the forefront of driving that change," Srivats said.



It is reported that Twenty percent of these Swiggy delivery partners are present in tier 2 and tier 3 cities like Surat, Belgaum, Guwahati, and Lucknow, the statement said.
Swiggy, which announced that it is carrying out a pilot project to increase the use of electric vehicles (EV) in 10 more cities across the country, said it is currently testing Electric vehicles from several logistic providers and motivating for the implementation of Electric vehicles by its delivery partners.
In its press statement, the company noted the positive benefits of EV adoption, including an up to 40 percent drop in the running cost of the vehicles, which would result in higher payouts for its partners who own the said EVs.
It was seen Last year in 2018 that Swiggy's delivery partners in cities like Delhi and Lucknow carried out deliveries through electric rickshaws. Swiggy currently is claiming that it is catering millions orders each month with a fleet of 1.7 lakh delivery partners across 120 cities.
Swiggy is a phoenix that rose out of Harsha & Nandan's earlier venture, Bundl Technologies. After a slow start, Swiggy transformed into a giant leading player in the food delivery industry and disrupted the market and also changed the way India eats.
In August of 2014, Swiggy started its operations by associating with couple of restaurants in Koramangala, Bengaluru. Soon enough, the first team of Hunger Saviors came into action to deliver food within 40 minutes. Shortly after, Swiggy raised its first round of funding and launched the app in May of 2015.