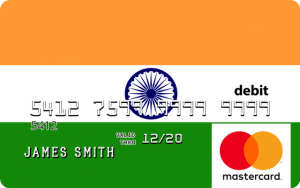 Global card payments giant Mastercard recently made an official announcement that it will invest USD 1 billion (about Rs 7,000 crore) in India in the next five years and plans to make the country a global technology node for its platforms globally.
Mastercard in past has already invested USD 1 billion in the Indian market in the previous five years.
"Over the last five years, we invested about USD 1 billion in India. Given our increasing confidence in the Indian economy, where it is likely to be over the coming decade, we are stepping up on our investment commitment in India. We are committing another USD 1 billion into India (for next five years)," Ari Sarker, co-president, Asia Pacific, Mastercard told PTI in an interaction here.
The most important avenue about this investment is that Mastercard is building India as a global technology node for its global platforms, he said.



This investment will help boost innovation and increase Mastercard's effectiveness for speed-to-market capabilities and value-added services.
"What we mean by that is as a payments network we are a global network. All our transactions traverse towards a global network where the technology centers are in the US. And now India is going to become the first country outside of the United States which will have a global technology node," he said.
"This is going to be great for us, not only for the India market. This is going to give us the ability that how we can use the India global node for any other country's traffic as we balance our global network and presence," Sarker further said.
Of the USD 1 billion investment, over USD 300 million will be used to develop, implement and integrate the India technology node.
The rest of the investment will go towards existing services and expanding capacity among others, Sarker said.
"We are also going to expand our existing capabilities and do more. We are also looking at partnerships, investment opportunities in a more significant way for India. We also think India's fintech growth is extremely exciting," he said.
In India, since demonetization or notebandi debit and credit cards continue to be the most preferred means of digital payment.
There were as many as 990.6 million cards (46 million credit cards and 945 million debit cards) at the end of February 2019, according to RBI data.
As per my view it has been great smart move by Mastercard as Indian government are forcing foreign companies on the issue of data localisation. So now it will become easy to comply with the new norms of data localisation it makes sense to make India the global technology node. Divert traffic of other countries to India region for varied Mastercard services.
Companies like Mastercard are investing in India not just for enormous #market or scale of business but also because its a great test bed. Fintech or otherwise, Technology and Disruptions like Block chain, ubiquitous Artificial Intelligence, predictive analytics, Data monetization models, API platforms, Prescriptive security, quantum computing, digital twin, spatial computing is being planned, incubated, deployed first in India centers. From being a back office to being the second Head quarters. The reinforced Research & Development Centers in India therefore need technology partners locally.