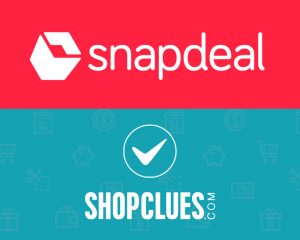 E-Commerce Company Snapdeal has recently started first round of negotiations with ShopClues to explore a potential strategic alliance," a source familiar with the discussions reported. This was also confirmed by another independent source.
"Talks are at a nascent stage and may or may not necessarily result in a deal," one of the above-mentioned sources said, adding that acquisition would most likely be through a share swap.
If the proposed transaction goes through in the cut-throat domestic e-commerce market, it would be a win win situation for both companies combining there arsenal together to take on E-commerce Goliath's like Amazon, Walmart backed Flipkart and Alibaba backed Paytm.
"As a combined entity with synergies across product categories and user base, they would also be better positioned to raise capital and attract higher valuations," said by Industry experts.
Shopclues counts Tiger Global, Helion Ventures, Nexus Venture Partners and GIC among its major investors. Snapdeal has partnered with investors like SoftBank, BlackRock, Temasek, Foxconn, Alibaba & e-Bay Inc among others.



Story of SnapDeal sounds like a Phoenix who are rising back from the ashes. Would love to see them make full recovery and come back stronger than ever to clash with Amazon and Walmart for supremacy in tier-1 cities.
Snapdeal was initially started in 2010 by Kunal Bahl along with Rohit Bansal. The e-commerce firm worked hard to build portfolio of 60 million plus products across 800 categories from regional, national and international brands and retailers. It is also claiming to have more than 300,000 sellers, delivering to more than 6000 cities and towns.
Shopclues was founded in July 2011 by Sanjay Sethi, Radhika Aggarwal and Sandeep Aggarwal. As its website reported that the online marketplace has more than 8.5 million products in segments ranging from mobiles & tablets to beauty and perfumes. It achieves more than 100 million visits every month and delivers to 30,000 destinations with many merchants based out of tier-2 and tier-3 cities.
As per the media speculation, ShopClues was looking for selling its stake or expecting complete buyout from potential partner like Snapdeal to avoid a collapse of its operations. The report also said that Shopclues had been losing momentum with its orders dropping and its investors had refused to provide any lifeline to the company.
Around 10-11 e-commerce companies, including Snapdeal and ShopClues, are in the process of forming a lobby group called 'The E-commerce Council of India'.
It is believed that the E-commerce space in India seems to be poised for a massive consolidation. Snapdeal and Shopclues merger will help them to grow faster in Tier 2 and 3 faster.
If the deal between both companies goes through and becomes successful than there will be no cash involved and all the existing investors of ShopClues will get a share in the combined entity.