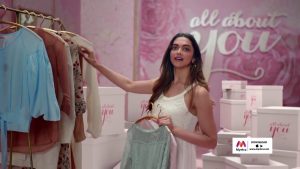 Walmart backed Myntra today announced that it has launched an offline store called 'Roadster Go' for lifestyle brand Roadster at Vega City mall in Bengaluru, India.
One of the Leading Indian E-Commerce Company Myntra backed franchisee has unveiled a new fashion store for Roadster – one of the most popular and leading outdoor lifestyle brands in the country. Called 'Roadster Go', the offline store is situated at Vega City Mall in Bengaluru and inherits the legacy of brand Roadster's hi-tech fashion omni channel experience, which is the first of its kind in India.
Roadster launched the first ever 'Roadster Go' store at Mantri Mall in Malleshwaram in 2018, welcoming visitors to a slew of technological innovations to improve customers shopping experience, brand awareness and building online and offline presences under one roof. It is spread across an area of 3,200 sq ft, the new 'Roadster Go' store is the biggest store for the brand till date. As a 100 percent RFID (Radio-frequency identification) enabled store, shoppers will be able to shop and pick up their favorite products without any support and assistance, discover real time online prices and do a self-checkout in 30 seconds, making it smarter, faster and seamless.
The RFID enabled digital screens at the outlet will be providing shoppers live real time detailed information about a particular product when held up against it; shoppers will be able to discover all the product features on models wearing them (studio images) including fabric, washes, suitability to body type, color matching, availability of size and more. And if a customer is ready to buy it and ready to go ahead with the purchase, they can easily initiate a 30 second self-checkout by placing all the products in the RFID tray which will capture product details automatically and display the bill on the screen, which can be paid instantly via your debit/credit card, upon confirmation, eliminating the need for scanning individual products or removing security tags from each garment.



Myntra main Unique Selling Preposition is that Shoppers will unleash breathtaking shopping experience without any help or support from the staff at the store, unless requested for in exceptional cases.
Amar Nagaram, Head, Myntra Jabong, said, "Roadster has shown how fashion and technology, when integrated, create unique experiences that take offline shopping to a new level. As a pioneer in omni-channel fashion, Myntra is committed to strengthening its offline presence through a franchise model and offer new experiences to engage customers and make shopping fast and seamless through technology."
Located at one of Bengaluru's emerging posh residential areas, on Bannerghatta road, Vega City mall is the one of the best choice for Roadster's new store, catering to blend of millennial and GenZ needs and demand, the brand's primary target audiences.
Myntra with the implementation of this new technology their main goal is to reduce waiting time by elimination of queues for consumers and remove the role of the cashier. It is also reported that this concept will extend to other Roadster stores in India. Currently, Myntra has 13 private brands of which Roadster is available in brick and mortar stores and also online. But as per the company reports said HRX, one of Myntra's other private labels, will also see its presence in offline stores soon.