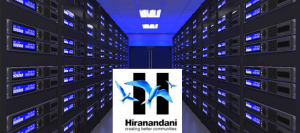 Hiranandani plans to build data centres under the brand Yotta in Panvel, near Mumbai, and Chennai.
We're proud to announce that we will be building India's largest and first hyper scale data centre at Hiranandani Fortune City township in Panvel, followed by Chennai and Mumbai.
The Hiranandani Group has made a foray into the data centre parks business. They have already invested Rs 1,000 crore in their first data centre at Panvel, Mumbai, which will be ready by Dec 31, 2019. That will be followed by four more at Panvel and one at Chennai. That's a massive investment and a big decision for a construction company. I believe others like Ctrl S and Netmagic Solutions are also building new data centres in India. I am convinced that demand for data centres is growing exponentially in India.
Hiranandani Group said it plans to invest ₹1000 crore to develop its first data centre building as part of an integrated township.
Being built over 18 acre land parcel, the company's first data centre park called 'Yotta' would comprise 5 buildings with a total size of around 30 lakh sqft.
H-Energy Pvt Ltd, the oil and gas arm of the Group, will provide the power requirements to operate the data centre parks. The energy vertical is managed by Hiranandani's Dubai-based son Darshan Hiranandani, who is also the chief executive officer of the group.
The government Digital India campaign along with the growth of Internet of Things (IoT), big data and artificial intelligence have opened up a huge opportunity for setting such data centres in the country. Besides, the growth of e-commerce firms have also expanded the need of having large organised data centres.



The Mumbai-based developer is also gearing up to launch similar data centre parks in Chennai and in other part of Mumbai as well. While the first park is being built as part of an existing integrated township Fortune City at Panvel, construction in the Chennai park would start from March next year.
Real estate developer Hiranandani Group is foraying into the shared data centre space, where it will build and lease buildings to corporates to store their data. The group plans to build data centres under the brand Yotta in Panvel, near Mumbai, and Chennai. It has hired Sunil Gupta as managing partner and CEO of Yotta.
In Panvel, the group plans to build a data centre park which, it claims, will be the country's largest, spread over 18 acres. It will have five data centres and 30,000 racks.