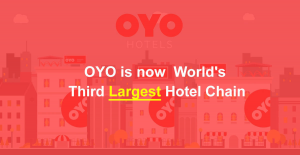 Ritesh Aggarwal, the founder and CEO of Oyo will invest $2 billion? (Rs. 14,000 cr.) to buyback a part of the equity holdings of the company.
It is currently held with Oyo's early investors Lightspeed Venture Partners and Sequoia India. Such a move is unprecedented among new-age Indian startups. This transaction will raise↗ Agarwal's stake in Oyo from nearly 10% to 30%.
In just 6 years Oyo has managed to become the world's third-largest hotel chain. And a special thanks goes to their loyal asset owners. To grow further together, OYO launched the Partner Privilege Program. With exclusive retention incentives, partner benefits and financial support, the Program creates an ecosystem that helps all our asset owners strive.
After becoming the third largest hotel chain the world, Oyo is now planning to claim the throne of co working spaces. The company today launched Oyo Workspaces which offers coworking spaces from Rs 6,000.



Besides that, this move will also infuse more equity capital into the firm whose valuation⚖ now stands at $10 billion.
Lightspeed and Sequoia are expected to make Rs. 7,000 crores and Rs. 3,500 crores by selling a part of their 13.4% and 10.24% respective stakes in Oyo.This is more than 10 times their initial investment. The buyback is a part of Oyo's larger fundraising plan, which includes coming up with an Initial Public Offering in the next 2-3 years.
OYO Hotels & Homes has announced that it has emerged as the world's third largest hotel chain as per room count as of June 2019. In six years since inception, OYO has expanded its presence to 800+cities, nearly 23,000+ OYO-branded hotels and 850,000 rooms, it said in a statement to the press.
OYO says that a significant part of its funds is being invested in the business as the company focuses on maintaining its growth momentum across geographies. The company also claims to have created over 300,000 direct and indirect job opportunities across India, China, US, and the UK.
Oyo's revenue has risen more than 4 times? in June (year-on-year).It is now the world's 3rd largest hotel? chain in terms of room count with over 10 lakh rooms.It has over 200,000 rooms in India.
Oyo which was founded in 2013 has attracted some of the world's leading investors? such as Airbnb, SoftBank Vision Fund, Lightspeed Venture Partners, Sequoia India etc.