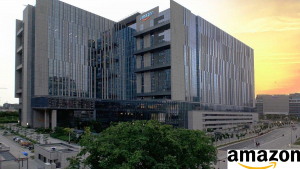 With the launch of the largest office building in Amazon's global network, thousands of Amazonians from more than four dozen businesses can work together under one roof, providing endless opportunities to collaborate and innovate. And with programs such as Amazon Easy Ship, Amazon Saheli, and Seller Flex, Amazon India continues to be a center of innovation and inspiration.
Amazon has opened its largest office in #Hyderabad. Hoping that many more companies and startups will setup their work places in #Hyderabad very soon. It is considered to be the biggest tech development in Hyderabad in recent times. Amazon opens its largest-ever campus in Hyderabad with a size of 65 football fields (9.5 acre campus).



India is on it's way to becoming the world's technology center. That's a bold statement and we're a long way away but I'm believing it more & more every day because:
India will be world's 2nd largest economy by 2030.
In fact, India will be the world's largest open economy by 2030.
Lots of global technology company CEO's are now Indians, which means they'll be more open to invest in India.
Goldman Sachs is starting its 3rd largest office in the world in Bangalore.
On top of that, Amazon just committed to open its largest ever campus in Hyderabad, India.
Amazon's biggest office is in India. Companies go where they can maximize profit, customers can pay, employees have skills, and the costs are low.It's just the start in India & I really hope that this statement turns out to be true 20 years from today.
The online retail giant's new campus in the city's financial district opened on Wednesday. It covers 9.5 acres and has 1.8 million square feet of office space, making it "Amazon's single largest building in the world in terms of total area," according to the company.
The building can accommodate up to 15,000 employees, nearly a quarter of Amazon's full-time India workforce of more than 62,000. The company also has 155,000 contract workers in the country, making India its biggest base outside the United States.
The Hyderabad campus is the first office outside the United States that Amazon fully owns. India has over 600 million internet users, but the majority of its population still isn't online. Amazon is trying to cash in on that potential by looking to expand its grocery business, creating more Indian content for its Prime Video streaming service and even making its mobile app available in India's most popular language, Hindi.