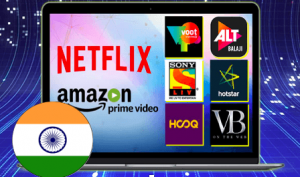 Hotstar is India's preferred over-the-top (OTT) app — 4 in 10 video consumers prefer the Walt Disney company over competition, a survey by MoMagic shows. In comparison, Amazon Prime Video and Netflix were chosen by 26% and 9%, respectively. Hotstar is believed to have grown its monthly active user base by 100 million in just the June quarter when it broadcasted IPL and the ICC Cricket World Cup matches. The MoMagic report shows that 70% people prefer consuming OTT content on mobile phones due to cheap data pricing. They should come up with their own original shows. Fight is over convenience, quality, price and entertainment.
India's top five metros cities contribute for more than 50 Percent of its OTT user base. Salaried employees are the largest consumer group, followed by students, business owners, housewives, and others.
There is tremendous importance being given to going 'desi' (local) with niche content being curated across OTT apps.



As a result you see premium English content being dubbed and available in regional audio, and shows/movies in one Indian language being dubbed in another Indian language. In addition, there are the regional 'originals' as well which contribute significantly to the number of streams and views.
Hotstar in reality leads the entire Indian market. About 56 percent of its users comes from metro cities. It is considered to be the highest penetration of non-paying users.
With affordable 4G tariffs, expanding Telco partnerships and the introduction of miniature packs (Hotstar VIP, Netflix mobile pack), the OTT space is all set to witness a spike in regional content consumption as compared to the mainstream Hindi and English libraries available.
On the contrary Eros Now is also the only Indian OTT player to have partnered with the new Apple TV+ service that is expected to launch by the end of 2019.
Which platform do you spend most time on? Why?