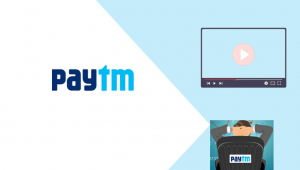 Paytm is looking to launch content, short videos, news and live TV by September, Economic Times reports, quoting a senior company executive. The move – part of a larger ₹750 crore plan to acquire customers and merchants in small cities – is aimed at doubling the company's monthly active user base to 250 million by March 2020. India's most valuable startup has been expanding into new verticals such as education, consumer loans and gaming even as the wallet business, its mainstay, falls behind rivals Google Pay and PhonePe.
Paytm is a great startup story. Now it's becoming something of an 'everything to everybody' in its quest for more active users. But I don't recall this 'Swiss Army Knife' strategy being very successful. They had a great wallet niche that they're now ceding to their rivals — not a good sign. I wish they had held on to their lead in it.
Paytm has no choice but to enter content space, in-fact any Internet product has no choice but to enter content hosting as an average consumer is spending extraordinary amount of time in watching videos and so everything needs to happen inside/besides streaming content.
According to report from Limelight Networks in 2018, an average Indian viewer is viewing online videos for 8 hours 28 minutes each week, which is far higher than the global average of 6 hours 45 minutes.
While giant like disneyplus , nbc universal and netflix will battle it out the bigger game to capture the 800+million smartphone users nation by 2023 as per Cisco report, e com biggies want to make sure that they are in the playground as well. With flipkart also at one corner now, guess alibaba backed PAYTM will explore opportunities soon.



Each of those hours spent on watching instant gratification, low-attention span videos on Tik-Tok, ShareChat, Facebook, Instagram, Youtube is an hour lost for Paytm or any other non-content platform which requires it's target audience to spend time in its platform for leads and conversions.
So, Paytm & alike have no choice but to host instant gratification, viral content including but not limited to 'News' (Which is now just another name for entertainment) in the hopes of retaining its consumers in its app and eventually lead them to sales.
Increase the stickiness of your app with content-led engagement!
This World Cup, more than the teams, the food delivery & payment apps seem to be winning. Whether it is Zomato Cricket Cup, Swiggy Match Day Mania or PayTm games; In-app competitions have really worked their charm in grabbing the audiences' attention and increase the DAU (daily active users) metric. So much that, PayTm claims that about 60% of all users engage with the app on a daily basis now.
What could be some other ways of implementing content-led engagement (apart from games)? Perhaps a fulfilling community, AI-powered shopping assistant or contributions in new product lines?
But it's easier said than done, because hosting content is just a technological overhead which can be bridged easily but 'networking effect' from user 'generated content' as in Tik-Tok, Facebook etc. cannot be achieved inside a payment / ecommerce platform.
Paytm would need to eventually launch a separate brand for competing in the instant gratification, low-attention span content market (or) acquire a brand like 'ShareChat' which already has a foot hold in it.