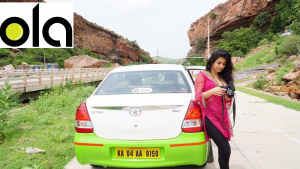 Ola, a cab booking company, provided information about the acquisition of Pickup.com AI (Pikup.ai) in Bangalore on Tuesday 13 August,2019. Pikup is an artificial intelligence (AI) startup company.
Ola, the mobile app based taxi company, on Tuesday announced the acquisition of 'Pickup Dot AI', a Bengaluru-based Artificial Intelligence (AI) startup. The details of the transaction amount have not been specified. Under the deal, pickup dot AI's team will join Ola. Indore Singh and Ritvik Sakia, co-founders of Pickup Dot AI, established this startup to provide seamless AI-driven solutions to businesses using autonomous technology, computer vision and sensor fusion like AI.
The pickup was founded by Inder Singh and Ritvik Saikia. The company works to provide barrier-free Artificial Intelligence enabled solutions to businesses.
Indian ride-hailing firm, Ola has proclaimed to buy Pikup.ai, an AI platform, which renders tech solutions to the companies.
Ola said in a statement that he has acquired (AQ-hiring) the pickup. AQ-hiring involves the acquisition of a company with the talent working in its business.
Ankit Bhatti, Co-Founder and Chief Technology Officer of OLA said, "As we move forward on our mission to create mobility for a billion people, we are investing in future technology solutions that mobilize in India and the world. Will shape our future. " Bhatti said, "We are excited to welcome the team of Pickup Dot AI to Ola and we look forward to co-creating new technology that will help redefine the experience of mobility in the coming times. "



Pikup joined forces with Ola to use deep tech and Artificial Intelligence to have an impact in the life of millions.
Ola is focusing on using advanced analytics and intensive technology to build future mobility solutions for India and the world. Inder Singh, co-founder of Pickup Dot AI, said, "We are very excited about joining Ola. Ola's mission is to provide mobility solutions to one billion people and we will work together to create meaningful technology solutions."
The company Ola is buying the giants of the Indian car, their local start-up in the field of artificial intelligence Pikup. They believe that with this deal, they can use more profound analysis and technology for innovation in the travelers ' relocation industry. The interesting thing is that the two Pikup founding has also been a component of this deal and is supposed to join Ola.