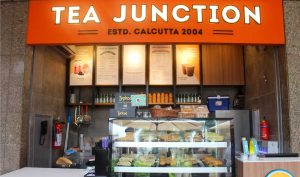 Ambuja Neotia Group's quick service restaurant chain T-Junction has launched its first and nationally 50th outlet at Select City Walk, Saket, New Delhi.
Quick Service Restaurant (QSR) chain "Tea Junction" has opened its first outlet in New Delhi at Select City Walk, Saket. This is the Kolkata-headquartered chain's 50th outlet in India.
With Kolkata and colonial era flavors, T-Junction offers many food and beverage options for all age groups. The new menu includes more than 15 varieties of hot and cold teas. Ginger tea and saffron tea are the best sellers on T-junction, which is liked by people of all age groups. There are also contemporary options like Bubble Tea.
Tea Junction is offering multiple food and beverage options in order to carter to all age groups. Its new menu offers over 15 varieties of hot,warm and cold tea-based beverages.
Tea is given in an earthen ax on tea-junction, which adds to the traditional feeling of the overall tea drinking experience. T-Junction is a platform to bring its experiential bubble tea, which is gradually proving to be a huge success.
The food menu also includes breakfast, snacks and dessert options. With its full range in Food and Beverages, Tea Junction will also make local delicacies such as Kolkata's Lebu Cha, Dimar Devil and Baked Roshogulla available to consumers in Delhi.



T-Junction director Parthiv Neotia said that we are very happy to be making the first move in northern India, with T-Junction's 50th outlet. We are very happy to bring here special junk tea and delicious dishes of Tea Junction.
The company plans to aggressively expand in northern and eastern India after gaining a foothold in eastern India. As per the plan, the target is to open more than 80 outlets throughout the North and East India in the current financial year.
Tea Junction eyes to have over 80 outlets in this fiscal spread across North and East India. The endeavour of the group is to capitalize on tea-drinking culture of India,notch up the experience while retaining traditional atmosphere and the bliss of conversation over a cup of tea at one's convenience.