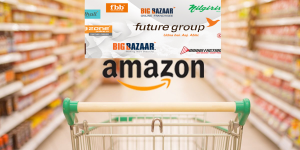 American e-commerce giant Amazon is in advanced stage of discussions with Future Retail Ltd for picking up to 10 per cent stake in the Indian retail chain.
The deal with the Kishore Biyani-led company is expected to close in the next few weeks, sources close to the development said.
Amazon is in late-stage talks to acquire up to 10% in Future Retail, Bloomberg reports, citing unidentified sources. Future Retail, which operates 2,000 stores across 400 cities, is said to be eyeing a valuation of about ₹2,000 crore. The two companies are back to the negotiating table after an earlier stake sale plan was derailed by India's move to tighten e-commerce norms. A deal allows Amazon to expand its foothold in the desi brick-and-mortar market where it has built up stake in chains such as Shoppers Stop and More.
Amazon pioneered the online economy. Their interest in Reliance Retail and Future Group indicate a reverse trend.Besides, Reliance Retail and Future Group, have vastly different business models, and therefore will target different market segments. It'll be interesting to see how Amazon uses these two avenues and shape their own future, and of the two partners, and the retail sector as a whole.
What does this deal mean for Indian Retail Market and Indian Consumers?
Brick and mortars aren't fading away rather are more relevant now than ever before. With the stake in Future retail, #amazon trying to strengthen its foothold in the Indian market and getting into omni channel retail.



Time for buy anywhere, delivery and return anywhere preferably round the clock.
Even google stats has a story – 61% of consumers would rather shop with brands that have a physical location than with brands that are online only. Also, nearly 80% of shoppers go in-store when there is an item they need or want immediately.
With Reliance E-commerce knocking on the door, it would be interesting to see how other biggies are lining up.
Must say that going to be a good time (short term) for Indian #consumers.
As of June 2019, the promoter and promoter group held 47.02 per cent share in Future Retail, which operates hypermarket and supermarket under brands which include Big Bazaar, Easyday, Foodhall, HyperCity, FBB, Heritage fresh, Ezone and WH Smith.