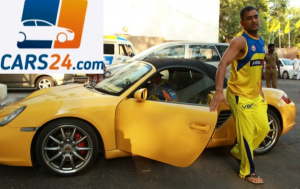 Mahendra Singh Dhoni, the former captain of the Indian cricket team, has invested in the tech-enabled old car buying company Cars24 ( CARS24). On Tuesday, the company stated that as part of this partnership, Dhoni will be given a stake in the company and will also become the company's brand ambassador.
Mahendra Singh Dhoni, former captain of the Indian cricket team, has invested in Cars24 (CARS24), one of the largest companies in India buying and selling used cars. The company said on Tuesday that Dhoni has invested in the company, he will have equity in the company while he will also become the ambassador of the brand. However, the company has not told how much the deal is done.
MS Dhoni Invests In Used Car Marketplace Cars24
CARS24 has not disclosed financial information about this partnership in its statement. The company has said that it is part of the D round of investment funding.



Cars24's co-founder and CEO Vikram Chopra said that Dhoni's ability to constantly evolve, be innovative and find solutions to every problem that has been around for years is very much in line with the potential of our brand. He said that Cars24 follows these values ​​and that is why this partnership is natural and best.
Dhoni's new innings on business pitch, invested in second-hand car selling company Cars24
Let us know that CARS24 was launched in 2015. They are one of the largest used car buying and selling platforms in India. At the same time, the company aims to enter the franchise model and make inroads in the market of 300 Tier 2 cities and beyond.
Cars24 Target to make inroads in 300 Indian cities
Cars24 was founded in 2015 and is one of the largest platform for buying and selling cars in the country. The company recently announced its foray into the franchise model and aims to have a presence in over 300 Tier 2 markets by 2021.
Cars24 has more than 10,000 channel partners in 230 cities across India and over 155 branches in 35 cities. The company is funded by investors such as Sequoia India, Accor Seeds, Partners of DST Global, Kingsway Capital and KCK.