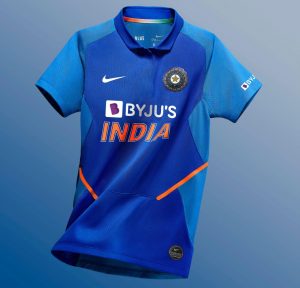 The Board of Control for Cricket in India (BCCI) has recently made an official announcement that Online Learning App Byju, which is currently India's 4th most valuable startup will be Indian cricket team's official sponsor for next 3 years till 2022. As a surprise Made in India App Byju have replaced Chines Smartphone Maker Oppo for the big league.
Byju Becomes the Official Sponsor For Indian Cricket Team
Starting September 5th, 2019, Byju, owned by Think and Learn Private Limited will be the official sponsor of Indian cricket team. After years of foreign sponsors, Team India gets an Indian home-grown brand which will emblazon the blue jersey from Sept '19
Byju has made every Indian proud by replacing Chinese Firm Oppo to bring back the dream title. In the last two years, Oppo, a Chinese company, was the official sponsors of the Indian cricket team, but now, all Indian players will be wearing new jerseys with Byju's name printed in the upcoming series.
This official sponsorship deal for Byju will be valid till March 31st, 2022.
Good to see the brand building and its growth. Truly convinced with the product. However, until and unless the management work style is changed and the organization becomes more employee concentric and creates a healthy work environment for it's employees, the brand building won't help much to attract the right talent!



Mr. Rahul Johri, CEO, BCCI, said, "On behalf of the BCCI, we would like to thank OPPO for its partnership with Indian Cricket. I congratulate BYJU'S on becoming the new Team India sponsor. BCCI and BYJU'S share a common vision and together we will take Indian Cricket forward."
On the occasion, Byju Raveendran, Founder & CEO of BYJU'S said, "Just as cricket inspires a billion budding dreams across India, we too as a learning company hope to inspire the love of learning in every child's heart."
This represents the true potential of Indian companies and showcases how excel Indian companies are performing in this modern business era.
This is awesome, an ordinary Idea but well-strategic and more importantly exceptionally marketed has grown leaps and bounds with funding pouring in from various sources showcasing confidence over the model and its promoters.
What do you think about companies spending exorbitant amounts on such deals?