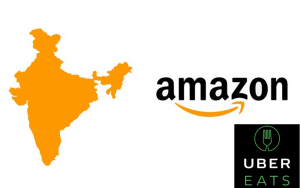 Amazon India is in initial stages to acquire Uber Eats' Indian unit and is eyeing for a big bang entry in the food delivery market. Uber Eats is expecting atleast a valuation of around $300 million, sources told the paper.
"People order almost frequently from a Zomato or a Swiggy App. These apps enjoy significant market domination. Amazon believes this could be a great add-on to its membership plan," a source said.
Amazon is poised to re-enter the food delivery business and India is the right place to do so. Unlike western markets where it failed to gain traction while competing with the likes of GrubHub, Door Dash etc. India would be easier (read cheaper) to gain the mind share.
The e-commerce behemoth Amazon is expecting food delivery will make users use the Prime app more rapidly than fashion, electronics and groceries.
And building upon the presence of Uber Eats would give Amazon a level playing ground to compete with Swiggy, which gets ~50% of all food delivery bookings in India. Extensive discounts didn't work for Foodpanda as it put the brand in question with regard to quality, as consumer associated discounted food as 'cheap food'.
We had done lots of efforts to get light on the news but could not independently verify the news.



In the recent past Both Swiggy and Zomato have considered buying Uber Eats' Indian unit, according to media reports. Talks between Swiggy and Zomato failed due to differences over expensive valuation.
Amazon has been making sincere efforts to push its Prime membership in India. Earlier in July, 2019 the company conducted the Prime Day Sale, offering several products at big discounts for almost two days.
But Amazon would be able to offer discounts without hurting the brand image by leveraging its 'Prime Membership' machinery. Consumers are likely not to question the discount they receive via Prime for which they pay for; as compared to seeing food priced very low.
During the sale, it offered membership at a massive discount and mind blowing cashback offers to users aged between 18-24. Under the Amazon Prime Youth Offer, it priced the annual subscription at Rs 499, significantly lower than the standard Rs 999.
Amazon need not re-invent its marketing strategy to promote the food business separately as there is already existing strategy to promote Prime Membership and seems to be working as intended.
Amazon is also gearing up its expansion plans to beat the growing presence of its rival Walmart, which acquired Indian e-tailer Flipkart in May last year.
Besides, Uber Eats being bought by Amazon is better than it being acquired by Swiggy from the consumer perspective. A monopoly is only good for the investors, it never ends well for the consumer or for the society.
Companies established in the 21st century are really showing that business is not stuck to one product but has more to do with what the captive customer wants. Amazon started as a book retailer but today doesn't really care about what it sells as long as it's captured audience wants it.The 21st century game is truly amazing.
If the Amazon's Deal goes through than this will put huge dent on swiggy's and zomato's business.