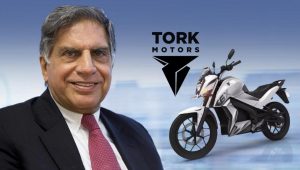 Electric vehicle startup Torque Motors said on Monday that Ratan Tata has decided to invest in the company. However, the company has not disclosed the amount to be invested. Earlier, the Pune-based company has also received investments from Bhavish Agarwal, founder of Bharat Forge and Ola Cabs.
Ratan Tata, chairman emeritus of Tata Sons, is going to invest in Tune Motors, a Pune-based electric vehicle start-up. Ratan Tata has taken this decision even before the commercial launch of its flagship product T6X. However, no information has been received about how much will be invested in it at the moment. Earlier, the company raised funds from Bharat Forge and Bhavish Aggarwal (founder of Ola). Torque Motors is a manufacturer of indigenously developed electric vehicles. This Made in India products will be made after many years of intensive research and development.



Ratan Tata, the honorary chairman of Tata Sons, said in a statement that in the last few years, people's attitude towards electric vehicles has changed significantly. The electric vehicle industry is changing rapidly and I am confident of its logic and the approach adopted by the Torque Motors team.
Torque Motors is preparing to launch its flagship electric motorcycle in the next few months.
Talking about power specifications, the T6X electric motorcycle will have a top speed of 100 kmph and it can travel up to 100 km on a single charge. The battery takes 1 hour to charge up to 80 percent. In addition, Torque Motors is working with state-of-the-art electric motorcycle technology on the signature TIROS (Torque Initiative Response Operating System), an intelligence that powers the T6X.
Ratan Tata said that in the last few years there has been a lot of change in the attitude towards electric vehicles. This industry is changing rapidly. I decided to invest with strong logic.
In addition to analyzing and compiling data for rider, power management, rear time power configuration and range forecasts, TIROS also likes to learn how you ride.
Torque Motors has also previously raised investments from Bharat Forge and Ola founder Bhavish Aggarwal. The company plans to launch an electric motorcycle in the next few months.
On this investment, Ratan Tata said, "Over the years there has been a change in attitude towards electric vehicles. This industry is changing rapidly and I place a good value on the vision of the team of Sound Logic and Torque Motors. Overall, I am very impressed and feel that this is a feeling that should be present in every Indian entrepreneur. "
Kapil Shelke, founder and CEO of Torque Motors, said that the investment made by Ratan Tata supports our long-held belief that the Indian auto sector is going through a period of great growth and change.
Tata is known for supporting a committed and passionate entrepreneur with a sustainable business model as well as unique, exciting concepts. We appreciate their completeness and commitment to understanding our brand and product.