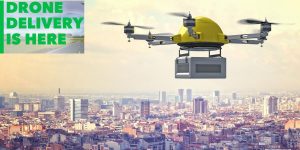 The Directorate General of Civil Aviation (DGCA) has shortlisted seven companies, out of 34 applicants, which has recently submitted proposal for long-range, or beyond visual line of sight (BVLOS) drone experiments.
Among the firms selected include food and delivery companies Zomato, Swiggy and Dunzo, medical delivery providers Zipline and Redwing, and large enterprises Tata Advanced Systems and Honeywell. It had rejected 27 applications mainly on the grounds of incomplete details and information.
The civil aviation authority has asked these firms to submit further technical details, as per Economic Times report that quoted one of the selected firms, which hopes to get approvals by November,2019. The process has been delayed by a couple of months. As per the original plan, the civil authority, which had set deadline in July for participant interest, wanted to be done with approvals by August.



Drones to deliver medicines in India by 2020: California-based Zipline will provide on-demand medical assistance through its drone delivery service in India, with an eye on providing instant aid to remote areas.
Drone Delivery India Pilot To Begin In 2020. The government of Telangana in collaboration with Apollo Hospitals and the World Economic Forum has formalized the plan for a six-month pilot called 'Medicines from the Sky', starting in 2020. The project aims to explore the use of drones to increase access to healthcare for communities across the Telangana state.
This framework will be implemented by integrating drones into the state's healthcare supply chain. It's envisioned to become the base for the pilot project and eventually be converted into a request for proposal. In addition, based on the research report published by global market intelligence and advisory firm BIS Research, the Indian drone market is expected to reach $885.7 million by 2021, while the global opportunity is projected to touch $21.47 billion during this period.
Governments and healthcare providers will have to work towards shortening the time of healthcare delivery. Drones will play an important role in areas with limited access to hospitals. Apollo Group, India's leading hospital & healthcare conglomerate announced its strategic partnership with US-based Zipline Drones.Zipline is the world's largest autonomous medical drone delivery service. Can this deal shape the future of Healthcare delivery in India?
Ever get frustrated with your food delivery person when he gets lost? Well, worry no more. Reports have suggested that the Directorate General of Civil Aviation (DGCA) has taken the next step towards firming out the government's plan on allowing drones for civilian and commercial purposes.
Zomato Swiggy Dunzo and Zipline are some of the companies that have been picked to conduct the long-range, or beyond visual line of sight (BVLOS) drone experiments. They have all provided technical details to the DGCA who will grant them approval within the next month to set up solutions and begin flying by January 2020.
India is moving quite fast on tech now-we have a "Digital Sky" portal for drone registration & draft rules already in place. The Government of Telangana (India) has been exploring the use of drones to increase access to healthcare for communities across the state. Thanks to that, they are one step closer to rolling out a large-scale programme for delivery of blood and vital medical supplies via drones.
Companies like Redwing and Zipline have teamed up with the Governments of Uttarakhand and Maharashtra to enable the delivery of vaccines, drugs, blood packets etc. to remote areas.The introduction of drones for delivery might be a major boon to those in rural areas who especially don't have access to basic necessities and facilities available to them. The question is how our privacy and security will be protected or guaranteed now that the technology is in practice.