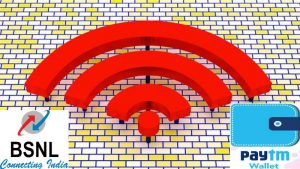 The telecom service provider Bharat Sanchar Nigam Limited (BSNL) and the payment wallet Paytm app have entered into a partnership under which BSNL WiFi can now be accessed using this app. BSNL Chairman and Managing Director PK Purwar started the service at an event held here on Thursday. BSNL officials and Paytm team were also present on the occasion. Under this partnership, it will be easier to connect with BSNL's existing public WiFi network across the country using the Paytm app.
Purwar said that Internet users have hesitated to connect to public WiFi mainly due to the traditional approach and insecurity of using bank details for a small WiFi transaction on an not trusted platform. After resolving these situations, Paytm has launched WiFi Connect service in partnership with BSNL where users can connect to BSNL WiFi network at all enabled locations in just a few clicks.



He said that when a Paytm user is in the BSNL WiFi zone, the Paytm app will send a notification to the user to connect to the available WiFi. The user will then click on the available SSID to connect. Once the user is certified, he / she will be able to select the plan as per their requirement and will be able to pay and connect to Paytm immediately. This feature also provides facility to check the consumption and validity of data on the dashboard available to the user and supports data roaming in BSNL network.
Public WiFi will connect 400 Lakhs new users to the internet by 2019. Google India joined hands with BSNL to bring secure public WiFi to villages in Gujarat, Bihar & Maharashtra.
Paytm's exciting partnership with BSNL enables you to access WiFi using the Paytm App!
The Public WiFi Hotspot recent study indicates that in 2019, Bharat Broadband Network Limited (BBNL) and Bharat Sanchar Nigam Limited (BSNL) contributed around 90 Percent of total public WiFi hotspot numbers in the country, followed by Reliance Jio, QuadGen Wireless, Smart Cities and RailTel.