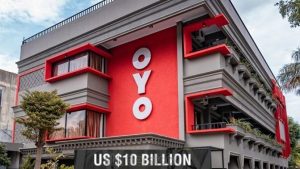 Oyo is raising $1.5 billion in a Series F round that will value the hospitality startup at $10 billion. Founder Ritesh Agarwal alone will spend $700 million as part of a $2 billion plan to triple his ownership stake while existing investors SoftBank, Lightspeed Venture Partners and Sequoia will put in the rest. A chunk of the money will be used to fund Oyo's growth in the US and bankroll its vacation rentals business in Europe. But India's second-most valuable startup is facing a serious backlash from hotel partners for allegedly deceitfully raising commissions.
OYO raising $1.5 billion at $10 billion valuation. The backers? No one new. Existing investors including SoftBank's Vision Fund, Sequoia, Lightspeed and the 25-year-old founder Ritesh Agarwal have plowed in capital.



Builders used to follow a simple scheme for financing by fudging value of their land. To ensure the 'right' value of the land they would first boost its value by selling a portion of it to a group company. This boosted value of the whole parcel of land. And set the bench mark for valuation by the bank. The builder would than mortgage this land to a bank and raise money at inflated value. They will take this capital and buy another parcel of land and repeat the process. This circular trade would go on till their company got listed at high share price based upon the inherent value of their land banks. But they were supposed to be builder they had to build residential flats, commercial buildings etc. They forgot all that and focused only on valuation. They even pledged #shares of the listed company to borrowed more capital and financed diversification into other sectors. Debt piled up and they became financing companies based on notional value. Is this happening here too, with equity. Founder borrows capital from existing investor, uses it to buy more shares in his company. Gives partial exist to some investors, maybe as a part of an existing buy back deal. Raises its valuation and capital for further diversification or expansion to raise valuation.
On other hand India is creating a new world of opportunities. This is certainly proud moment for everyone at OYO and for aspiring Indian entrepreneurs as well.One of the most successful Indian start-up who have changed and transformed the meaning of hospitality with the innovation, technology and products.
OYO hitting the $10 Bn Valuation is really a proud moment for all the aspiring Indian entrepreneurs in the path for creating more successful Indian start-ups.
OYO invaded the Hospitality Industry with the innovation, technology and products no doubt but now is the time to balance the trade-offs between the interests at OYO and its Business Partners.
Partners usually start to exploit the platform in its initial offerings and then feel the pinch of sharing with the Innovators. It has been the norm over the years with the other Trade Partners as well. Also the Innovators exceed their Briefs of being the "Be-All and End-All" of their Creation. Mostly both loose in the long run of considering themselves as MUTUALLY EXCLUSIVE. That's the start of the ENDGAME. OYO, OLA, ZOMATO all run these Risks. The Partners except OLA from the list above still have their traditional business share which can flourish exclusive. ALL in their quest to "MILK the OTHER" are going to miss the CREAM for sure.