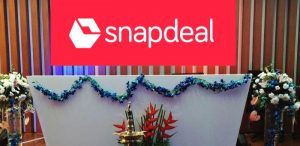 Online sector company Snapdeal will launch three exclusive e-stores for the upcoming Karva Chauth, Dhanteras and Diwali festivals. The essential items for all the festivals at each store will be available at one place.
A Snapdeal spokesperson said that this would enable the purchase of traditional goods in an easy and convenient manner. The first store will be for Karva Chauth. It will have 'Puja Thali', 'Puja Stuff' and other products available for worship.
Snapdeal recorded 52% growth in terms of volume during its first Diwali season sale driven by Non-metro cities. Snapdeal said the e-store will also have all products required for the Diwali pooja, including idols of Lakshmi and Ganesh. Snapdeal clocks 300% growth in sales of Digital Gift Cards in metros.



Snapdeal will launch three special e-stores for forthcoming festival of Karva Chuth , Dhanteras and Diwali to cash in on the rising trend of online shopping. Each e-store will provide all festival essentials in one place-making shopping for traditional items simple and convenient. The first such e-store will be for karva chauth offering products like "Pooja Thalis" ,"Pooja accessories" and other products used to perform the rituals.
The second e-store will have special selection for Dhanteras and will include offers on gold and silver coins, utensils,and fine Jewellery. The Diwali gifting store will have a huge assortment of traditional and modern gifts items , including electronics,and home related products. The e-store will also have all products required for Diwali pooja , including idols of Lakshmi and Ganesh.
The ongoing festive season sales on e-commerce platforms have crossed $1.8 billion in value, and the mobile phones remain the most selling category. 2019's festival sales, which are touted to be bigger than ever, have been live for several days now and according to RedSeer consulting firm, apart from electronics, value growth is also being driven by fashion and furniture. Further, sales are being led by smaller cities as most of the buyers belong to tier 2 and tier 3 regions. "Looking at the trends and results from the first 3 days of its 8-day "Snap-Diwali" Sale, Snapdeal shared that nearly 92% of the orders received so far are from non-metro locations," a Snapdeal spokesperson said.
The second e-store will be for Dhanteras. Gold and silver coins, utensils etc. will be available in it. At the same time, the Diwali store will be stocked with traditional and modern gifts. Electronics and other household items will be available in it. Snapdeal said that the Diwali store will have items related to Diwali Puja. It contains idols of Lakshmi and Ganesh.