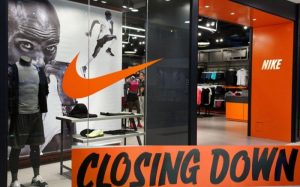 American sports equipment giant manufacturer Nike has recently fired nearly 20 percent of its employees in India as in a process of its downsizing exercise, reported Economic Times.
Nike had also reported that they are alternative way of E-commerce in India. The footwear and sports gear giant has reduced down its store count to 150 from 350 three years ago, and plans to further bring it down to 100, Times of India reports, citing unidentified sources. Nike has withdrawn ties with most franchisees (barring one) and will now sell largely on Flipkart and Amazon. The reason: Nike is restructuring globally to focus on 12 international cities, but none of them are in India.
How can Nike maintain sales numbers despite fewer stores?



Nike closing down more of its stores is an affirmation of the online sales driven by Flipkart and Amazon than Nike deciding to withdraw operations from India.Another example to how offline to online channel shifts are taking place in the business world in India.If you run a consumer facing business , and you haven't tried out e-commerce platforms yet, you're misusing something.Get a product out that can be sold through online platforms. Can give you reach and scale immediately.It is really necessary to use a Multi channel sales strategy, instead of just focusing on one.
Selling products on online marketplaces can give consumers businesses massive growth. If anyone needs any help in selling on marketplaces.
Earlier, Nike CEO Mark Parker had recently announced that Nike has been in constant process of cutting down around 1,400 jobs as part of a restructuring to sell more shoes directly to customers online via leading e-commerce portals. In addition, reduce the number of sneaker and clothing styles production by a quarter and focus on hot sellers.
According to media reports, the Oregon-headquartered sneaker maker had said earlier that the Nike had closed shut down approximately 35% of its stores in India.
A huge decline in the company's sales in Indian market had added more concerns to the current measure. Nike's sale saw a massive drop over the past two years from Rs 803 crore in FY15 to Rs 764 crore in FY16, according to data from Registrar of Companies (RoC).
The company, which forayed into the Indian market in 2005, also reported an increase in its losses from Rs 101 crore in 2014-15 to Rs 170 crore in 2015-16, said the report.