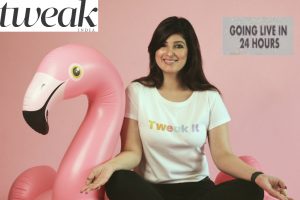 Bollywood Actress, Indian Author and Producer Twinkle Khanna has come up with a bilingual digital platform for women named Tweak. She aims to create a judgement-free place for women with the platform. You can visit website
Talking about her new initiative, Twinkle said: "I want Tweak to be a judgement-free place for women to ask questions, seek advice and engage in a meaningful debate on almost any subject. This is as much a space for seeing your glass as always half-full, while laughing at yourself because you really can't see without your glasses."



Akshay Kumar and Twinkle Khanna's son Aarav Birthday was a birthday on Sunday, but the actress has two reasons to be happy. Along with his son's birthday in September, there is a big achievement of his life. She is going to launch her news venture Tweak India this month. This new venture has been created for Indian women who will challenge the old ideologies and will discover new ideas. Twinkle Khanna felt that what better day to announce this venture than Aarav birthday.
Tvikanl Khanna (Twinkle Khanna New Ventur) announced its new venture through a video on your social media. Sharing this, he wrote, 'Today is my son's birthday, but apart from this, I am going to have another Baby Tweak India Ventur. Although we are still counting our hands and toes. The video shared by Twinkle Khanna is a promotional video for Tweak India. She is questioning the stereotypes and old-fashioned ways in it.
Twinkle Khanna did this emotional message on her son's birthday
Akshay Kumar and Twinkle Khanna are holidaying in England these days with the family. Twinkle Khanna wishes Aarav , sharing a picture on social media on son Aarav 's birthday, wrote, 'Happy birthday! The flesh of my flesh and the blood of my blood, I know that whenever I say such a thing, you stop me and say that mother stop saying these strange things! But it's true, you have my cells and I have yours'.
Akshay Kumar did this message on his son's birthday
At the same time, Akshay Kumar (Akshay Kumar wishes Aarav) also congratulated the son on his birthday with a lovely message. Sharing a picture on social media, he wrote, 'I learned one thing from my father that if I get stuck in any place, I will go to my father only and only. Even if it is my fault, I will not think that my father will kill me. I feel very happy when I see you doing the same thing. I will always be with you to guide you. Happy birthday Aarav. '