One of Bollywood's Famous Actress Deepika Padukone turns Investor and she recently invested in Drum Foods International Pvt. Ltd, the producer of flavored yogurt brand Epigamia, as part of a strategic partnership that will also see her endorse the brand. Its a win situation for both for the Actress as well for the company as Deepika Padukone will promote the brand and will boost brand image and value.
The investment has been made through KA Enterprises Llp, Padukone's strategic initiative arm.
The investment is part of the Series C round raised by the company earlier this year, which also saw Danone Manifesto Ventures and Verlinvest, a Belgium-based consumer-focused investment firm, back the Mumbai-based packaged foods startup.
Epigamia, which producer flavored yogurt, Greek yogurt, smoothies, and mishti doi, will use the all the investment funds to build up its strong foothold across other cities in India.
"Her (Padukone's) involvement will accelerate the pace of reach for our products," said Rohan Mirchandani, co-founder, Drum Foods. As part of the deal, Padukone will own equity in Drum Foods. The company, however, declined to share the details of her investment.
Padukone, who has recently given blockbuster hits in Bollywood with movies like Bajirao Mastani and, more recently, Padmavat, is India's second most valued celebrity brand after ace Indian cricketer and captain of Indian team Virat Kohli.



As of 2018, Padukone who endorses over 20 brands had a brand value of $102.5 million, according to a celebrity brand valuation report by Duff and Phelps.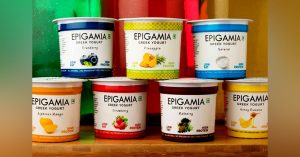 Epigamia is also looking to expand its products portfolio. "We have so far not done too much mass media advertisements. But on the basis of our association with Padukone, we are now looking forward to elevating the brand to the next dimension," Mirchandani said, adding that Padukone may feature in its advertisements by the end of the calendar year.
Over the coming two years, the company plans to boost its retail distribution network to 50,000 outlets across more than 25 cities. Padukone's involvement will accelerate that pace, Mirchandani said.
Drum Foods was founded in 2008 by former Wharton alumni Rohan Mirchandani, chef Ganesh Krishnamurthy, Rahul Jain, and Uday Thakkar. Its products are sold through more than 10,000 retail stores, including Big Basket and Amazon, besides retailers spread across Delhi-NCR, Mumbai, Bengaluru, and Chennai. Padukone had set up KA Enterprises in 2017, to leverage her brand and back businesses ranging from apparel, to now food. So far, the firm has invested in four startup ventures to name a few are online furniture rental platform Furlenco, and beauty products marketplace Purplle.
Currently Deepika Padukone has invested an undisclosed amount in Mumbai-based Drums Food, a FMCG startup that makes flavoured yogurt 'Epigamia'.
Recently one month back, famous celebrity superstar Jennifer Lopez and her fiance Alex Rodriguez made their first investment in an India with SARVA, a Mumbai-based yoga and wellness startup.