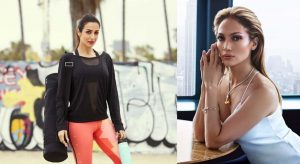 Mumbai-based Yoga startup SARVA has recently made a breakthrough in managing to raise about $6 Mn to $8 Mn from a couple of Indian and international celebrities such as World famous superstar Jennifer Lopez, American baseball player Alex Rodriguez, Bollywood actress Malaika Arora, and a fitness brand Zumba.
Other few investors in the startup include Pi Capital's chairman David Giampaola, founder of 24 Hour Fitness Worldwide Mask Mastrov, and MTV Networks CEO Bill Roedy.
Jennifer Lopez and her fiance, baseball legend Alex Rodriguez, marking the couple very first investment in an Indian venture.
SARVA currently has around 55,000 members across 70 yoga studios in 35 cities across India, offering a wide variety of engaging and customized yoga services developed from the best of ancient and modern techniques.
The startup has so far raised a total of $8 million in two rounds of funding. SARVA also feel very proud by taking on board India's Fitness Icon Malaika Arora and India's largest chain of health clubs, Talwalkars, as its investors.
Indian Actress and Model Malaika Arora commented,"After SARVA and my joint initiative to start women focused brand Diva Yoga, now I look forward to becoming a part of the overall company that comes with a vision of connecting seven Billion breaths globally, using finesse and a hi-tech approach."



"Stress, anxiety, sleeplessness, depression and obesity have become a global epidemic for people of all ages and we are trying to curate physical and digital offerings and services for different needs, ages and geographies to help people empower themselves with the tools to lead better lives," said Sarvesh Shashi, founder & CEO of SARVA.
Founded by Sarvesh Shashi, 27, a former aspiring cricketer, SARVA has brilliantly developed 25 unique and comprehensive forms of Yoga, which it teaches to its students in its exclusive designed studios to maximize the effectiveness of Yoga routine.
The startup also claims Google, Yahoo, Amazon and Tata as its corporate clients, for that they had specially designed workshops programmes. It provides a set of 12 workshops for corporate, each of either 45 minutes or a 75 minutes time duration, that deals with day-to-day challenges of an employee.
In addition to corporate employees yoga and health workshops, SARVA also has easy-to-practice 15-20-minute workstation programmes at their studios such as Desktop yoga, Chair Yoga, Partner Yoga, Dance Yoga, Brain Engagement Yoga and so on, that do not require the employee from moving away from their workstation.
Sarva is betting big on Indian Health and Fitness Market and once it becomes successful to develop strong foothold in India so next goal will be to explore business opportunities in international markets like United States of America, United Kingdom, and Middle East.
The global wellness market is estimated to be at $4.2 Tn. While the global yoga market is worth $80 Bn. Some major players in the health, fitness and wellness space are startups such as Stratfit, Growfitter, Fitnapp, and HealthifyMe.