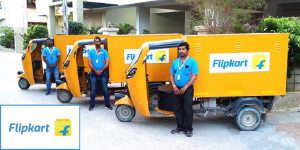 Walmart-owned Flipkart has on boarded nearly 27000 Kirana shops across 700 cities to strengthen its pan-India supply chain ahead of the upcoming festive season. This will further strengthen and personalize e-commerce experience for its existing 160 million customers,help deepen its reach to newer geographies and customers and support "kiranas" by enhancing their income. It will also helps reach out to millions of new consumers during upcoming Festive event, "The Big Billion Days".
In India, even the biggest conglomerates including Tata & Reliance have been unable to diminish the Kirana stores' dominance while newer online retail entrants like Amazon and Walmart-owned Flipkart are trying to embrace them, using the shops to facilitate deliveries or offer assistance to customers going online for the first time.
Kirana stores, Mom and pop shops to thrive even as Amazon, Flipkart give tough fight. While e-tailers will see their share getting fattened by 2021 and traditional retail will shrink, the kirana stores will still have three-fourth share of the market which is expected to grow to over $1.2 trillion by 2021.



Indian retail is an interesting market. It is forcing the international giants like Amazon, Walmart-Flipkart and Indian giant Reliance to bring innovation to win the trust and business of 'kiranas' and their relationship with consumers.
Flipkart is doing a fantastic job on E-Commerce with Last Mile Delivery and our Cash and Carry locations are providing a wonderful service for kiranas as well (local neighborhood shops in India). I just saw one of our Best Price Wholesales (Cash and Carry) running off solar power panels on the rooftop. Let's keep innovating and moving forward in this exciting market.
Look at the scenario where many E-commerce and retail companies are increasing their Tie-up with the small businesses to add value in the Indian market. some strategies that are helping them to capture the market share at the right time. Flipkart is adding 27000 Kirana stores on its platform.
Future group Launched their e-comm wave 3.0 by planning to set delivery store of daily items with the help of Google. Amazon is getting into the offline market establishing new relation with Future group ( acquiring 49% in future coupon, subsidiary of Future group) and also buying 26% of Reliance retail.
Amazon is stepping into the food market by acquiring Foodpanda and the promising restaurants to have a very cordial relationship by charging minimal 5-10% as compared to the average of the industry. ( Zomato 20-30%, Swiggy 20-30% which is huge). Look at the timing of the entry of Amazon in the food market, where Zomato is struggling with the sour relationship with the partner restaurants.
Reliance Retail is planning to set up an E-commerce marketplace and that is supposed to be big. So overall we can see that how business models are changing the way it works with the time. in today's volatile market, it becomes very important for any business to expand at the right time with the right strategy.
The world is adopting digital in its ecosystem. Digital companies understanding the importance of on-ground presence (Flipkart on-boarding Kirana shops, other digital startup's opening on-ground experience centres. Digital companies using offline advertising platforms to communicate their offerings.