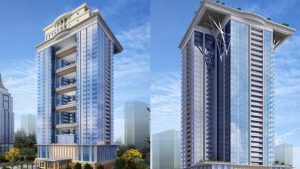 Vijay Mallya who was famous in India for "King of Good Times" is very excited of his new luxurious Sky Mansion as it is on the verge of completion but his lenders are having an eye of claiming or confiscating the property which is located in Bengaluru.
Approximate value of the 'Sky Mansion' is around USD 20 million but the embattled industrialist — whose Kingfisher Airlines defaulted on a huge loan and who has been staying out of the country despite directives — may lose the apartment.This skyscraper is being built under a joint venture between United Breweries Holdings Ltd (UBHL) and Prestige Estates Projects Ltd. In this agreement UBHL owns 55 percent stake and the developer have 45 percent.
With the mega luxurious township spread across 4.5 acre out of which Liquor Barron has $20 million mansion With 40,000 sq feet of space with Mallya's penthouse stands atop a cantilever rested upon a 35-storey high-rise. It has a surrounding 360 Degree view platform with a personal Helipad and Tempted Swimming pool. The penthouse is part of a skyscraper, but it is as exclusive as a private villa with its two elevators; it shares nothing with the rest of the residences.
There has been a legal battle going between Vijay Mallya and State bank of India as it is the Kingfisher largest lender for years and in past the tribunal court in bangalore has ruled in favour of SBI which owes more than 6,000 crores.The liquor baron and his companies — UBHL, Kingfisher Airlines and Kingfisher Finvest India — need to pay an amount of Rs 9,000 crore, after adding interest, to banks.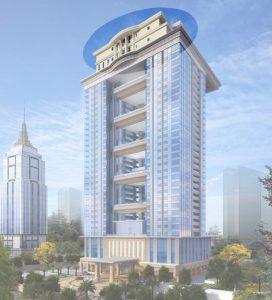 The skyscraper, which will be the expensive address in the city once ready, is being developed as an extension of UB City.Prestige Estates, which is also constructing the building, has 42 apartments—8,000 sq. ft each with four bedrooms and five car parks—of which it has sold 34 and kept the remaining eight to sell once the building is fully done. The last sale was for around Rs.25 crore.While the developer Prestige is gearing up to finish the project and hand over the homes to the respective buyers by this year-end, "Only the external structure of the penthouse is being constructed. The interiors will remain pending since there isn't any clarity on the matter on who will claim the property.
Less than 2% loan outstanding against Mallya recovered so far
Public sector banks have been able to recover only a fraction of the more than Rs 8,000 crore loan outstanding against embattled. For the fourth time, the Service Tax department has failed to get a buyer for the personal jet of beleaguered businessman Vijay Mallya. There was yet another mention of Vijay Mallya in the Rajya Sabha, with JD (U) MP Harivansh demanding a probe into whether the liquor baron's sky mansion in Bengaluru was funded through shell companies. He said that against 15 lakh companies registered in the country, only 6 lakh pay income tax. Referring to Mallya's mansion-style penthouse in Bengaluru, which is built across 40,000 sq ft with a helipad, he said the details of its construction, funding and "its relation with shell companies" have to be found out.