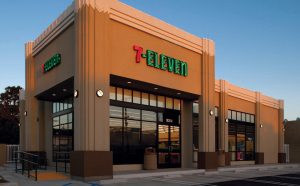 In past couple of years regulations around Foreign Direct Investment in retail have eased, India's retail landscape is getting a new makeover to boost its economy.
7-Eleven, the world's largest convenience store chain, is debuting India in partnership with Kishore Biyani's led Future Group. Future Retail has recently inked a master franchise agreement with 7-Eleven, and the first stores are likely to open as soon as this year. 7-Eleven is a Japanese-owned, United States based chain that has 67,000 stores globally.
"7-Eleven, Inc. is among the most iconic global brands in the food retail landscape," Future Group CEO Kishore Biyani said. "We are proud to bring this globally trusted convenience store to India and build new pathways together that will offer Indian customers greater convenience and choices, within their own neighborhood," he added.
"This strategic relationship offers an excellent opportunity to bring 7-Eleven's brand of convenience and its iconic products to the Indian consumer," Ken Wakabayashi, senior vice president and head of international business at 7-Eleven, said in the statement. 7-Eleven was founded all the way back in 1927, and now hires 45,000 employees across Asia, Europe and North America.
India, currently has no shortage of retail stores — Kishore Biyani's Future Group itself runs brands like Big Bazaar, Food bazaar, Central, EasyDay and Food hall, but 7-Eleven will bring its global strategic expertise and its unique small-store format. 7-Eleven stores are typically much smaller than the average supermarket, and stock fast-moving items of daily use. Internationally, 7-Eleven stores are also open 24*7 — if the brand can continue with that format in India, this could end up being a useful Unique Selling Preposition for the retail chain.
But 7-Eleven will also have to face stiff competition with the digital transformation that's taking shape in Indian retail industry. With emergence of Startups like Amazon, BigBasket, Grofers, and more recently, Swiggy, are now delivering food and grocery items directly from stores to customers' doorstep. Future Group too has been trying to get on the digital bandwagon — it had announced a Retail 3.0 plan last year, in which it had said its stores would take orders over Facebook Messenger and WhatsApp Application.
It remains to be seen how 7-Eleven will penetrate and sustain in India, but its entry will certainly come as good news for the Indian consumers. As a new entrant, it will likely look to price its products fairly competitively. The brand will also bring with it international standards of logistics management like supply chain and inventory management, which will likely be implemented up by Indian chains, and perhaps upgrade the standards of Indian retail across the industry. As India opens up to the world, its retail chains might soon end up being truly world-class.