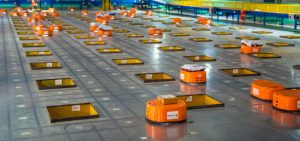 India's leading e-commerce giant Flipkart has deployed 100 robots in one of its delivery warehouses in Bengaluru to help sort packages and strengthen its supply chain and logistics. The automated guided vehicles will be working in a tight grid and use collision avoidance technology for smooth movements from one place to another.
The automated robots is capable to pick up products from a conveyor belt, scan them and then drop them down a chute which is assigned to a particular pin code. The AGVs can sort 4,500 packages in one hour which is ten times more efficient than a single human. Futher there is a scope of more improvement in performance and delivery can also be increased by five times by upgrading the infrastructure by adding more robots.
Pranav Saxena, VP of robotics and automation at eKart said to Economic Times that the system was developed along with vendors. He explains that the system will be immensely beneficial during sale periods when the company records a huge number of orders. The robots will also eliminate human errors and improve overall customer satisfaction.
In times to come Flipkart is gearing up to put more resources and add more robots in other delivery hubs across India. However, this move may cause a loss in jobs. Keeping this in mind, Flipkart will increase the capabilities of its human workforce by getting more value-added work done by them. Flipkart has already been running large scale reskilling programs for its workforce in its organisation.
In September 2018, Binny Bansal, co-founder of Flipkart has invested in GreyOrange, warehouse automation and robotics startup. So, the e-commerce giant appears to be planning on the move for quite a long time. GreyOrange handles the automation for Flipkart, Myntra, Jabong and Pepperfry.
United States headquartered giant Amazon has been using automation and innovative technology for quite some time for both its retail operations and warehouses. As per the media reports Amazon has around 1 lakh robots in its warehouses across the world. The robots are responsible for carrying the stock around the warehouse and group the individual items together for a specific order. However, Amazon currently doesn't use any robots in its Indian warehouses as the spaces are much smaller in comparison to its fulfillment centers in the United States.
Foodtech companies are also experimenting with automated vehicles to enhance their services. Zomato had acquired drone startup TechEagle in December last year to introduce drone-based food delivery in India.