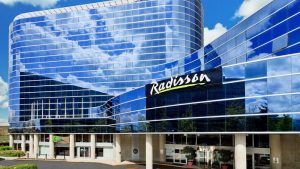 Radisson Hotel Group is gearing upon its 100th property in India by end of 2019. The hospitality chain is in its second year of Destination 2022, a five-year strategic operation plan.
As a part of this, Radisson signed 15 hotels in 2018 and an additional four properties in Amritsar (Park Plaza), Greater Noida (Radisson Greater Noida), Kashipur (Park Inn) and Sohna Road city (Radisson Gurugram) for 2019.
The first Radisson RED hotel is set to launch this year in Mohali, Punjab. Other two Radisson Red properties will be in Noida and New Gurgaon. The group is also focusing on emerging tier II and III cities in central part of India as well.



Zubin Saxena, Managing Director and Vice President of Operations, South Asia said, "South Asia is one of the world's most dynamic regions, where huge populations meet soaring economic growth, creating unprecedented opportunities for investment and development.
"At Radisson Hotel Group, we have long since recognized the subcontinent's vast potential, and it is no coincidence that we are now one of South Asia's largest and most trusted hotel groups. We have very strong relationships with our owners and other stakeholders in South Asia, and we will continue to work tirelessly to drive profitability through operational excellence."
The luxury hotel chain as part of the expansion plans will also introduce seven new global programmes, which include Rad family, Radisson Meetings and Welcome India that will cater to outbound Indian guests and 'Hotel Center of Excellence' for all General Managers in India.
Radisson Hotel Group today said it is planning to increase its total portfolio of hotels in India to 200 by the end of year 2022, and add 10,000 employees.
The third largest hotel chain in the country is banging on smaller indian cities with huge amount of investment for expansion.
"India is a key market for us and we are planning to have 200 properties here by 2022, both in operation and under development," Raj Rana, chief executive officer, South Asia, Radisson Hotel Group told reporters here.
The global hospitality giant just got re branded to Radisson Hotel Group last month from what was called the Carlson Rezidor Hotel Group earlier.
"The rebranding will help us grow further and will give us opportunities for new efficiencies," said Katerina Giannouka, president, Asia Pacific, Radisson Hotel Group.
It currently employs 15,000 people in India and plans to add another 10,000 in five years in line with its expansion plans, according to Rana.
The company is targeting tier II and III cities, state capitals, pilgrimages, industrial and tourist destinations for massive expansion.