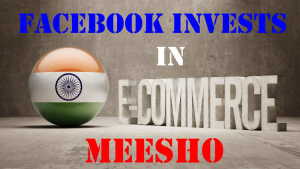 Facebook recently made an official announcement that it has invested in Meesho, a Bengaluru-based startup which is encouraging female entrepreneurship, officially making its second investment in India.
Ajit Mohan, vice-president and managing director, Facebook India, who made the announcement over a video conference call, did not disclose the amount of the investment but said the tech giant had bought a minority stake.
"Facebook is an ally for India's economic growth and social development. We are excited about India and its rapidly rising Internet ecosystem. With this investment in Meesho, we want to fuel a business model that can result in rapid job creation and the rise of a female entrepreneurial class in India," Mohan added.
Some years back in July 2014, Social Networking giant Facebook acquired Little Eye Labs, a Bengaluru-based Tech startup that transforms a software tool to measure and analyze the performance of Android application, for a reported sum of $10-15 million.
Meesho, founded by Indian Institute of Technology-Delhi graduates Vidit Aatrey and Sanjeev Barnwal, facilitates an innovative three-way marketplace enabling re sellers, small and medium businesses (SMBs), and micro-entrepreneurs across the country to connect and form a network with potential buyers using social media.



Facebook was so much excited due to its strategic business model is growing outside of the metros with a focus on rural areas, tier II and III cities where new internet users are based. Additionally one more added advantage is that it has two million re sellers, more than 80% of them are women. Most of them are starting a business for the first time, thus motivating female entrepreneurship, Mohan said.
Aatrey said: "Over the last four years we've grown from our humble beginnings at IIT, to 15,000 suppliers and two million re sellers throughout India. We share a common goal with Facebook—to enable community and help small businesses grow. This commitment from Facebook will help us leapfrog towards our goal."
As per Mr Mohan he said that Facebook India is investing in startups that focus on creating growth for SMBs will be a conscious strategy for Facebook as it sees this route as an opportunity to drive India's economic growth and social development.
Over the past couple of years, Facebook has been working closely with Small Medium Businesses and enterprises to help them build and grow their businesses.
Mohan said he believes that SMBs can have a huge impact on the India growth story. Facebook wants to go a step further to strengthen the entire ecosystem for SMBs in the country, he added.