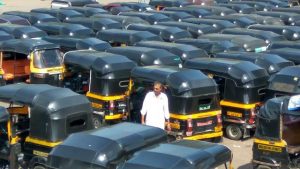 In a series of strong and serious warning demanded by 10 Lakhs autorickshaw drivers across state of Maharashtra have threatened to go on indefinite strike, if their demands are not fulfilled.
One of the main reasons and top priority demand is a total ban of Uber and Ola Cab hailing services across the state of Maharashtra.
Autorickshaw Unions demand complete Ban on Ola and Uber
Couple of autorickshaw drivers across Maharashtra have come and joined together and issued a warning that Ola and Uber should be banned.
The representatives of the Unions had a meeting in Mumbai, where it was decided that 2 lakh auto drivers from city of Mumbai will join this state-wide protest against Maharashtra Government.
Mumbai Automen's Union leader Shashank Sharad Rao, "More than 10 lakh auto drivers across Maharashtra, including two lakh in Mumbai alone, will go on indefinite strike from July 9 if our demands are not met,"
Mumbai is one of the Top three Bussiest and Biggest cities where both Ola and Uber have a solid presence, and if the Government meets the demands of the auto-rickshaw unions, then it will step down from the agitation.
The Demands Of Autorickshaw Drivers
However, banning and shutting down Ola and Uber is not the only demand of autorickshaw drivers further they also had demanded an increase in auto-fares. Since last three years, there has been no official increase in the per kilometer charge of autorickshaw rides.
The Autorickshaw Drivers Union has demanded that the new auto fare should be hiked to Rs 22/km, which is Rs 4 more than the current rates of Rs 18/km.
As per the proposal submitted by representatives of the Union, this hike in fare will be utilized for the creation of a special fund, which will be used for providing Provident Funds, Gratuity, Pension and Medical support and assistance to the auto drivers, across the state of Maharastra.
There are approximately 8 lakh auto drivers across Maharashtra, and 2 lakh in Mumbai alone. And If the demands are not fulfilled as soon as possible by the government, then the autorickshaw associations will go on indefinite strike from July 9, 2019 on wards.



The Unions will submit the proposal to Maharashtra chief minister Devendra Fadnaivs and transport minister Diwakar Raote, soon.
As per our research and study today in new modern business world of digital economy and globalization requesting and threatening with such demands by auto drivers is not only weird and practical but also not feasible at all. India is a developing and now opening its economy towards foreign investors and companies and there should be no backing or support from the Government to allow Unions to demands such unrealistic steps.
On the other hand government has maintain balance when it comes to the development and welfare of the auto-drivers and also should take appropriate steps, and make sure that every driver is able to get his valuable dues for his Hard work.