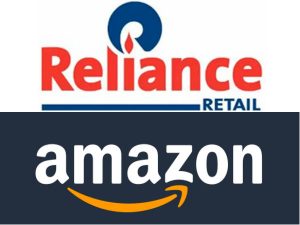 In recent days there is lots of buzz going around the corner that United States E-Commerce Giant Amazon is in initial stages of negotiations to acquire up to 26% stake in Reliance Retail, Economic Times reports, quoting unidentified sources. If the talks goes through successfully, Amazon India will get direct access to more than 10,500 stores operated by India's largest brick-and-mortar retailer.
AMAZON IS IN EXPLORATORY TALKS WITH RELIANCE INDUSTRIES LTD-OWNED RELIANCE RETAIL FOR BUYING UP TO 26% STAKE IN INDIA'S BIGGEST BRICK-AND-MORTAR RETAILER, AS PER ECONOMIC TIMES REPORTS.
Will Amazon partner Reliance Retail?
Amazon has strong hold in the Indian market at present and what kind of strategies they are planning even we are not aware. But that for sure, Reliance will going to be die soon if they will not work on their strategies.



Debt isn't a big problem for Reliance Industries as it is well within control of company. Debt to Equity ratio of RIL is only 0.39 at the end of March FY 2019.
MASTERSTROKE BY MUKESH AMBANI LED RELIANCE RETAIL
Very clever and strategic move by Amazon to acquire 26% of Reliance Retail:
1. It gets access to 10,500 retail outlets all over the country
2. It turns an influential competitor into an ally (remember the new eCommerce laws introduced recently that affected Amazon and Flipkart.
For Reliance:
1. Reliance Retail, which started with a bang, has never really proved to be profitable venture
2. The deal will ease their debt burden.
However, there is no clarity and certainty the initial discussions will lead to a deal, according to the report.
The Seattle-based e-commerce giant has been engaged in a cut throat competitions and a deadly battle for Indian market share against Walmart-backed Flipkart, with both companies announcing various strategies to grab customers attention in what is viewed as one of their most important growth markets.