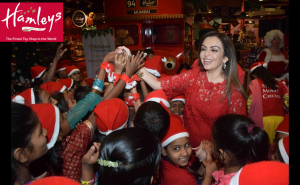 One of the world's largest toy shops Hamleys, that was recently acquired by Mukesh ambani led Reliance Brands, a subsidiary of Reliance Industries, has achieved a new milestone by opening its 100th store at MGF mall, Gurgaon.
One of World's Largest Toy retailing giant Hamleys has opened its 100th store at MGF Mall, Gurgaon. The retail brand that was recently owned by Reliance Brands Limited, a subsidiary of Reliance Industries is popular for its wide range of branded toys across the world.
Designed by United Kingdom based design studio Zebra, the new store is spread across 5,000 sq. ft. The project is finely executed by Geeta Tembulkar, GM, Hamleys at Reliance Brands Ltd with its attractive U shaped façade and three level of stores will showcase an enhanced experience to its customers.
Speaking about the new store, a Hamleys Spokesperson said, "One of the major highlights of the new store is its U shaped Façade. We encountered a lot of challenges while executing the glass facade but we decided that only glass would do justice to the U shape of the building. It took us 3 months to complete the entire project and now it looks like a premium store. Façade is something we really focus on as a statement of the brand vision."



Reliance Retail has recently acquired Hamleys just one month back from the Chinese company that owns the famed UK toy seller.
Recently, United States based Toys R Us has went out of business last year after filing for bankruptcy in 2017. On the other hand United Kingdom's largest department store chain Debenhams has gone into administration.
A Hamleys acquisition in pocket will give Reliance 167 stores across 18 countries. Hamleys gives Reliance Retail a global footprint which the company currently lacks. Despite its huge sales network in India, Reliance Retail so far has no global presence.