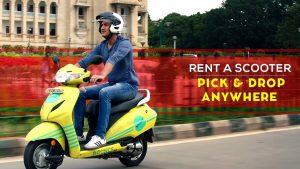 Bengaluru based Bike Sharing Startup Bounce recently made an official announcement that it has achieved a significant milestone of 60,000 rides per day in Bengaluru, making it the fastest-growing bike-sharing start-up in the world. Within 10 months of launching dockless scooters in Bengaluru, the firm has touched one more significant milestone of completing five million rides, covering 30 million km.
Bengaluru-based Bounce covers 5 million rides in 10 months
The company, which was valued at over $220 million in June, 2019 after raising $72 million in a funding round, said that it is scaling on par with Worldwide competitors, including United Standard-based scooter-rental companies Lime and Bird.
"We are absolutely stoked by this milestone. This feat would not have been possible without the contribution of each and every member of the Bounce community, both employees and users alike," said Vivekananda H R, chief executive and co-founder of Bounce. "We are steadily on our way to democratizing mobility in India and making Bengaluru a public transport society," he added.
According to the Transport Department, Bengaluru it is one of the biggest hub to over 7.6 million private vehicles, as per a 2018 report. With the introduction of last-mile bike sharing, the usage of public transportation has seen rapidly increasing. Bounce's 60,000 rides per day milestone was achieved with around 7,000 dockless scooters covering an average distance of 7-8 km per ride. The company said it also remains one of the most affordable modes of commuting, offering users rides at Rs 5 per km.



My 30-day micro-mobility challenge :-
66% of trips in India are done on bicycles, sccoters or on foot.
Rapid growth in this space is not only a promising solution to congestion but would also have a lasting impact on environment.
I traveled 352Kms in 30-days (June) with Yulu, Rapido, Bounce, Mobycy Zypp and Vogo. Here are few observations that I want these companies to look at:
1. Discoverability: Either I can book a ride before (Bounce) or I can scan the vehicle's QR code to unlock (Yulu, Vogo). Why can't I do both?
2. Parking: Also, since GPS accuracy is limited, it allows people to park on roads/footpaths near dedicated zones which affects rest of the commute. Can we have a better solution?
3. Partnerships: There have been times where I took a Bounce till a Yulu Zone and drove a bicycle after that. Growing this space would require aggressive partnerships which can effectively solve end user's last mile problem.
BIKE SHARING AND BIKE RENTAL MARKET IN INDIA
"I have always believed that last-mile connectivity is going to be a game-changer in addressing urban traffic issues and enable a smooth transition to public transportation," said N Murali Krishna, special officer at Directorate of Urban Land Transport (DULT). "This achievement of Bounce within a short span of time stands a testament to the viability and acceptance of shared mobility," he added.
With slower growth in the ride-sharing market (Uber, Ola), scooter rental firms such as Vogo, Bounce are driving scooter rental platforms.
Both firms are planning to expand their existence into several new cities after experiencing strong demand in current cities.
Rise of the scooter industry comes at a time when India's ride-hailing industry is witnessing sluggish growth. Growth in average rides per day for on-demand cab industry fell from 90% in 2016 to 20% in 2018.
The slowdown is due to an increase in the cost of trips for customers and a decrease in incentives paid to drivers.
Is the ride-hailing industry, rental scooter industry responsible for sluggish growth in the automobile industry in India?