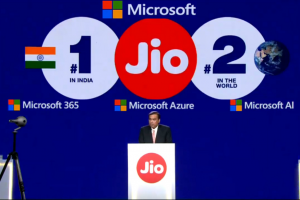 If the nearly three-year-old Mukesh Ambani-controlled telecom company, Reliance Jio Infocomm Ltd, has crossed the 340-million subscriber mark, making it India's largest telecom enterprise in terms of users, revenue and profit, by disrupting the country's telecom sector, the chairman and managing director of Reliance Industries on Monday has not only raised the entertainment and digital bar for telcos, but also sharpened his focus on startups, small- and medium-sized businesses (SMBs) and big enterprises.
Microsoft CEO, Satya Nadella says Our partnership with Jio will bring the power of Azure, Azure AI and Office 365 to millions of businesses in India – helping them innovate and grow.
To begin with, in the 42nd annual general meeting (AGM) speech, Ambani took the high digital position by underscoring the fact that almost every conceivable emerging technology trend is present in the Jio fold—be that artificial intelligence (AI), internet of things (IoT), blockchain, online multiplayer gaming, multi-party videoconferencing, augmented reality (AR), virtual reality (VR) and mixed reality (MR).
Future game for datacenter's competition will be based on below key fators.
1) Data Security.
2) Compliance & Regulation. 
3) multi cloud to mitigate risk.
4) Auto scaleup and downsize.
Reliance Jio is planning to setup Hyper scale data centers in India and Microsoft will deploy its Azure platform in these data centers to support Jio offerings. Initial 2 data centers in Gujarat & Maharashtra are targeted to be fully operational in calendar year 2020. Hiranandani announced data center foray with Yotta Infrastructure Solutions LLP and Adani is reported to launch multiple data centres. Welcome to concrete jungle of data centers as Digital transformation cloud becomes mainstay for modern businesses in India.
Jio-Microsoft alliance to set up a network of large world-class data centres across India powered by Microsoft's Azure cloud platform," said Ambani during the AGM.



Reliance #Jio, which disrupted the #Indian telco market by launching its #4G only network in early 2016 has been one of the fastest growing #telcos and claims to have 340 million subscribers. As it sets its sights on developing the domestic #IoT market, Reliance Jio today announced a strategic partnership with #Microsoft. Jio plans to offers 'Free' connectivity(cellular+fixed fiber broadband) and jio-cloud services to IT startups. Jio will also offer bundle of connectivity, business productivity and automation tools to small domestic businesses at Rs 1,500/ $21 per month. Jio also plans to commercially launch its IoT platform by 1-Jan, 2020.
Reliance Industries (RIL) on Monday announced partnership of its subsidiary Reliance Jio Infocomm with Microsoft in the technology space, including creation on cloud solutions. One of India's biggest #conglomerates is adapting to the compulsions of the digital age.
Reliance Jio rolls out freebies for budding startups, small and medium business enterprises.Starting January 1, 2020, Reliance Jio will provide free cloud services and connectivity infrastructure to India's budding startups. This will also include Azure cloud services that Jio is bringing as part of a long-term alliance with Microsoft. Not only this, but Jio will also offer a monthly digital services pack to micro, small, and medium businesses, starting at just Rs 1,500. Ambani called these enterprises the "bedrock of the economy". He asserted that these new initiatives will benefit two to five million startups and SMBs in India, and propel them towards growth.
The 10-year commitment combines the world-class capabilities of Reliance Jio Infocom Limited and Microsoft to offer a detailed set of solutions comprising #connectivity, #computing, #storage solutions, and other technology services and applications essential for Indian businesses.
India does not have a big company which has global presence. We have handful of companies which are making more than USD 500 million profit.If India is aiming at USD 5 Trillion economy by 2023-24 then we should have more companies which will be making profits above USD 1 billion per year.Then only these companies will a to grow bigger. Reliance is one moving in that direction with investment coming from Aramco to the tune of USD 15 billions and aiming to make net debt free company. We need min 10 companies of Reliance size to make it happen.In India big companies contribute 40% of GDP (USD 2.5 Trillions GDP) while in China it is 70% of GDP (USD 12 Trillion GDP).We need to partner with global companies but to make them invest in India we need to create a platform where they invest with out fear.