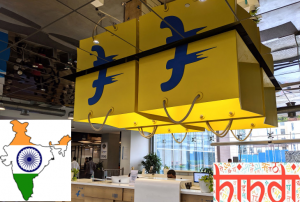 Flipkart has rolled out a Hindi interface on its platform, weeks ahead of the e-tailer's festive season sale. The move – targeted at the next 200 million internet users, mainly in Tier 2 and Tier 3 cities – is part of a larger effort where the company has deployed "80-90% of our resources towards solving for Bharat," group CEO Kalyan Krishnamurthy said.
Hindi is the next battleground for e-commerce players: Research suggests its internet user base will outgrow English's by 2021. Rival Amazon, which added Hindi on its apps and website last year, now also has a Hindi customer service chatbot.
Imagine reading formal shoes as "aupcharik joote" while searching for one online!! Weird right?
I have observed that Flipkart has better visibility in regional India. That's some solid Appeal. And we are just building up on that with our Hindi capability.
That's what happens when you simply translate English into Hindi but Flipkart after months of ethnographic study revealed that customers prefer colloquial tone as opposed to pure Hindi words. Read on to understand how Flipkart is enabling its Hindi interface to bring the next 200 million customers online.



Great move by Flipkart! When most of the e-commerce companies companies are aiming on how to expand their user base, Flipkart is making each and every effort to create a new market itself. And being a homegrown Indian startup giant, they are best quipped to make this opportunity a successful one and create indoors for a much bigger game in Indian e-commerce space.
The next billion users are Indian users! We have seen a huge spike in regional content consumption on the web! Businesses must focus on their Consumer Experience and Platform to truly engage with these new internet users!
Does Introducing a Native Language to your E-Commerce Website Is Good for the Business?
In my opinion, it's a good move for a business. This will help in better Understanding and make Online shopping experience more joyful and effective. Customers visiting on E-commerce in the Native language will give them more confidence and Independence to take decisions.
It looks impressive, looks like it's a manual work of producing one article in six languages. How are you planning to scale it to translate content dynamically in a language of my preference.
Recently Flipkart has announced the Introduction of Hindi Interface on its Platform to make it more engaging for the customers. This comes up with months of In-depth research and understanding the need and requirement of Native language for the customers coming Online from tier-2 and tier3 cities. This was an Advantageous move by Flipkart to bring more Customers online through Native Language.
"As a home-grown company, Flipkart has the advantage of understanding the Indian market and all its nuances in a much better way. We are committed to developing solutions that will help the adoption of ecommerce by the next 200 million consumers who come online" – CEO flipkart, Kalyan Krishnamurthy.